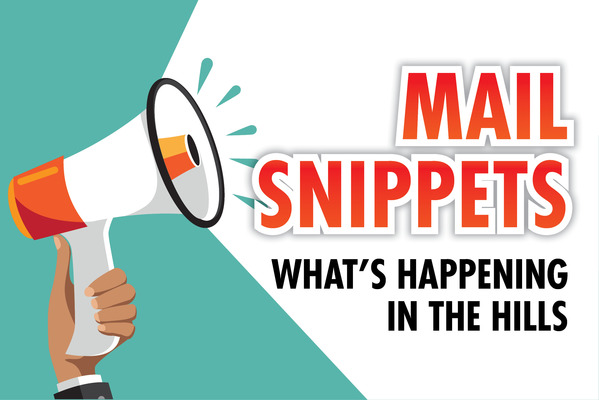 Read Write Now
Mountain District Learning Centre offers the Read Write Now program for people who want to improve their reading and writing skills. It provides practice in listening, speaking, reading and writing as well as help with grammar and pronunciation. The program runs every Thursday evening during school terms at Belgrave Library. Call the library on 9800 6489 to book, or visit events.yourlibrary.com.au.
The hydrogen revolution
New technology could make it possible for Australia to safely export massive quantities of hydrogen energy generated using surplus renewable energy. It could be an environmental game-changer. Professor John Andrews of RMIT, a hydrogen specialist and author of Doing more with Less, will speak at Emerald Library from 7.30pm to 9pm on Tuesday 18 June. Dandenong Ranges Renewable Energy Association is hosting the event for a gold coin donation. Call 5968 2824 for more.
Green thumbs
Upwey Garden Group's (U3A) Patrick Hogan will talk on The Secret Life of Trees – how they eat, drink, feel and look out for each other – at Upwey Senior's Community Centre, 6 Mahony Street, Upwey, on Wednesday 12 June at 7.30pm. Supper provided. Call Barb on 9754 3877.
Parish book fair
The Anglican Parish of Mount Dandenong's annual book fair will take place on Saturday 15 June from 10am to 4pm and Sunday 16 June from noon to 4pm at St Michael's Anglican Church in Kalorama. Attendees can browse a range of pre-loved books and find a bargain. A car boot sale will also be taking place on the Saturday. Entry is free and light refreshments will be available. Prior donations of good quality second hand books will be welcomed and most appreciated. Call Andrew on 9728 6353 or visit www.lightinthehills.org.au.
Cook up a storm
New cooking classes in Malaysian, Indian and Turkish cuisine are being held at Olinda Community House. A Malaysian course on lontong will run on Monday 17 June. Indian courses will run on Sundays 16 June and 23 June respectively. A Turkish class on Mediterranean winter cooking will run on Monday 24 June. Call Christine on 9751 1264 for further details and to book.
Life Activities Club Knox
There is a Light Horse Field Artillery Museum in Nar Nar Goon. Inside there is a private collection of memorabilia dedicated to the memory of animals used in the wars – horses, rats and everything – and the roles they played in the wars. Life Activities Club Knox will visit on 26 June and will car pool. Guests are welcome to join the group on this or any other activities. Call Carol on 9727 2726 for a copy of the group's newsletter.
Overdevelopment
The threats by aggressive developers in Belgrave, Tecoma, Monbulk and more will be outlined in a public forum at Selby Community House from 7pm on Tuesday 4 June. All welcome. Light supper provided. Gold coin donation. Inquiries: 9754 2039.