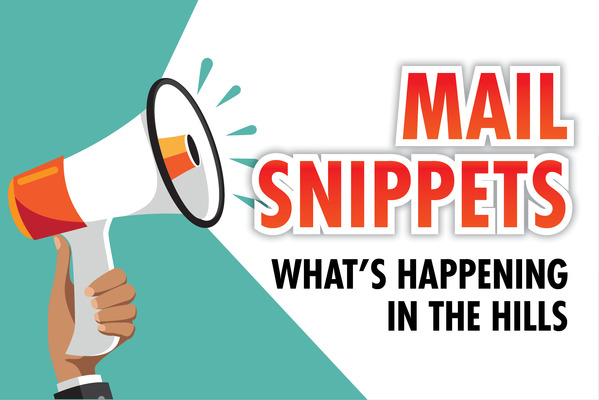 Pruning partners
Friends and Carers of Emerald Cemetery invite the community to assist the group with pruning the roses at Emerald Cemetery on 22 and 29 July, and 5 August from 10am to noon. Attendees should bring their own gloves, tools and a mug as morning tea is provided. Inquiries: 5968 4603.
Pop-up playground
Belgrave Preschool will host a 'prepare for preschool' pop-up playground on 16 August. Parents can bring along their child and join in the free preschool activities including story time, sand play, block play, imaginary play, music, art and outdoor play.
Music council
The Dandenong Ranges Music Council is presenting an attitude drumming and singing party on Thursday 25 July from 7pm to 9pm at Tecoma Uniting Church. The singing and drumming session is for all ages and abilities and all are welcome. Supper is provided. Inquiries: 9754 6566.
Edible Kallista
An action group will meet at 7pm on 17 July at the Kallista Community House to design a vision for planting edibles in public spaces around Kallista. After an initial community consultation meeting with Yarra Ranges Council landscapers and a walk around the village, the group is now ready to create its official proposal to submit to the council for its first project. This design meeting will involve drawing up a map and list of plants for each area. All are welcome to come and offer input into the design, share in the visioning and creating an overall action plan for an Edible Kallista. Inquiries: Christina 0424 100 420.
Cardinia CEO speaks in Emerald
Carol Jeffs, the recently appointed CEO in the Shire of Cardinia, will be the guest speaker at the next Emerald Village Association meeting which will be held on Tuesday 23 July at the Emerald RSL starting 7.30pm. Everyone is welcome to attend and for more information, call Dick Bartley on 0400 858 396.
Enrolments
Enrolments are now open for term three at the Cockatoo Community House. There are lots of fun activities for all ages, including dance, boxing, self-defence, work readiness, first aid and RSA, just to name a few. For more information call 5968 9031.