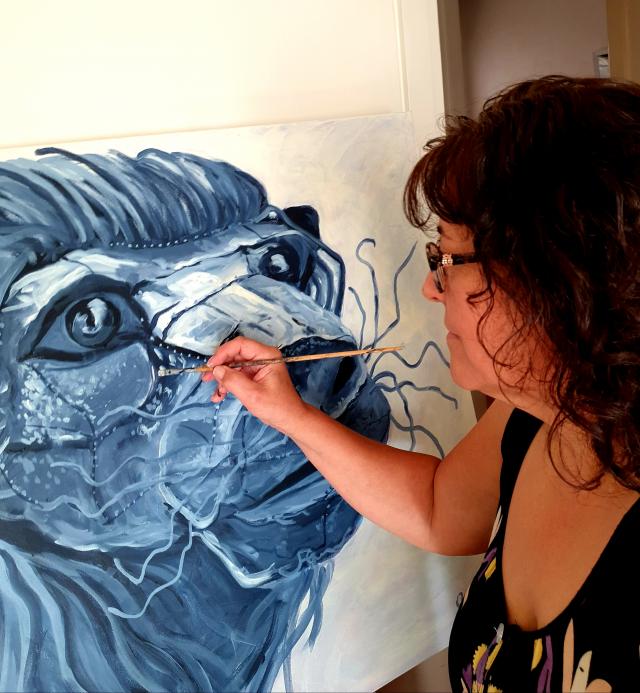 By Parker McKenzie
Ferntree Gully artist Olga Megele will be appearing on the TV show Colour In Your Life, which is broadcast in over 50 countries.
The show, hosted by artist Graeme Stevenson OAM, is filming the episode in Ferntree Gully for its 22nd season.
Ms Megele said the opportunity is both exciting and terrifying.
"There's about six of us who are being filmed in this batch, all the way from the country to Melbourne locations," she said.
"It's a bit exciting and it's nice to be in the company with other artists who are getting their work into the public view as well."
The TV show was started by Mr Stevenson in Murwillumbah New South Wales, and now films artists from seven countries.
Mrs Megele said it was a fantastic opportunity to show her work to the world.
"One motif that appears in my work is a white picket fence, it represents the barriers we face," she said.
"There is a certain amount of bravery needed to get past and through our barriers."
The show, which Mr Stevenson describes as "a bit like a cooking show but for artists," has been viewed over 100 million times through online streaming and is aired on TV networks in over 50 countries.
Ms Megele said her recent art has been heavily inspired by Melbourne's lengthy lockdowns in 2020 and 2021.
"When I was stuck at home without much around me I looked at my environments and put together various items I had and painted them as little snapshots," she said.
"They're quite small and then I've done very large abstract pieces and abstracted landscapes."
Ms Megele, who is a member of the Ferntree Gully Art Society, will be painting an original piece for Colour In Your Life when the filming crew arrives in Ferntree Gully in February.
To find out more about the show, visit www.colourinyourlife.com.au.