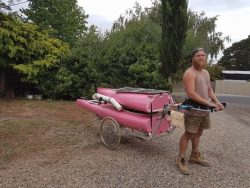 By Peter Douglas
Most shoppers know how challenging it can be to push a trolley in a straight line.
So imagine trying to achieve that over a 300-kilometre walk.
In an effort to raise funds for the National Breast Cancer Foundation, Avonsleigh man Brett Pooles on 5 March will set out from his home to Echuca – with the help of a custom-made trolley.
While the 26-year-old has achieved some incredible walking feats previously, this time the trolley will feature a fold-out kayak, because his adventure will include an 850km paddle down the Murray River to Mildura.
Brett told the 'Mail' he had been planning to take the journey in two years' time, but the death of a close friend's mother had stirred a change in plans.
"Her passing was very quick, so I said that this needed to happen straight away," he said.
"Through this walk, I want to keep the conversations going about this tragedy.
"A lot of the time, we don't talk about these things enough and this is my way of helping out a friend."
The latest journey will be one of the more difficult adventures Brett has tackled, which is an estimated 1150km in total distance.
With his father, Brett first attempted an epic walk at age 13.
Initially, they had been inspired by a documentary, which featured a man who walked from Adelaide to Darwin.
The duo attempted to walk from Avonsleigh to Rochester, but called it quits partway after difficulties with their backpacks.
Though in 2005, this time using a home-made trolley instead of backpacks, they walked from Avonsleigh to Rochester in just over eight days.
Brett's feats have also included a 2014 trek, during which he walked a trolley from Avonsleigh to Bonnie Doon – as well as walking to Phillip Island in 2012.
Last year, he walked from Emerald to Lakes Entrance, while also raising money for the Heart Foundation.
Brett said the adventures could be as hard as they seemed.
"Physically it can be very draining, and you get really sore, but it's the mental challenges that are the hardest," he said.
"Sometimes you've just got to look at the next hill and just punch through.
"It can get a bit scary on the roads, too.
"Once we were asleep, camped near a road, and we woke up with a strange man standing over the top of us."
Brett said he was putting the final touches on his purpose-built kayak, which weighs about 150kg, though – in his usual fashion – he hasn't done much training in the lead-up.
He insists he is mentally ready for the challenge, so he can help out a friend while also raising valuable funds.
Brett wants to help the National Breast Cancer Foundation in their effort to reach a goal of zero deaths from breast cancer by 2030.
To contribute to Brett's cause, visit https://nbcf-hostyourown.gofundraise.com.au/page/BrettPooles.
Alternatively, visit his Facebook page at www.facebook.com/man.with.a.trolley.