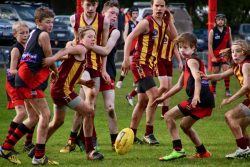 MONBULK JUNIOR FOOTBALL
After the weekend off because of the school holidays, there were many excited kids ready and raring to play.
As the season progresses with only a few rounds left, teams are starting to play to coach's instructions and putting together four-quarter games.
Another mixed bag of successes on the field and many cold extremities as the day started early for a couple of the teams.
UNDER 9
The kids got off to a great first quarter, they're pressure is improving every week. The team managed to get their second goal for the season. Well done, kids.
Awards: A. Gray, G. Silvester, K. Wrigley, W. Heap, Zac.
UNDER 10 MAROON
After a slow start, the team put together their best three quarters of the year. The manning up and pressure was fantastic. The team played in front of their opponent and linked together some terrific passages.
Awards: J. Sangster, J. Munro, A. Rayner, J. Fraser, R. English.
UNDER 10 GOLD
Excellent effort again, with the players' continued improvement and playing with intent once again a highlight.
Awards: C. Hooper, W. Hammond, W. Hughson, T. Higgins, J. Smith.
UNDER 12 GIRLS
This week was an opportunity to move players into different positions, especially the on-ball group. Their unselfish play and front position gave the team every opportunity to use the ball well. Looking forward to how the girls cope with the next few weeks' challenges. Well done, girls.
Awards: M. McDermott, S. Green, M. Rosenberg, G. Silvester.
UNDER 12
Probably the best four-quarter performance for the year. Looking forward to it continuing for the rest of the season.
Awards: L. Smith, J. Downard-Pengilly, I. Hylton-Stewart, J. Hammond, J. Wrigley.
UNDER 14 GOLD
Awards: B. Grimes, J. Spencer, A. Whyman, B. Sanders, J. Turpin, B. Smith.
UNDER 16
A very tough contest at the start of the game. The boys worked hard to gain control of the game which was great. They were in and out a bit with their concentration but finished the game strong. Well done.
Awards: K. Linde, L. Beecroft, B. Rutherford, D. Ross, B. Te Brokhorst, G. McClelland.