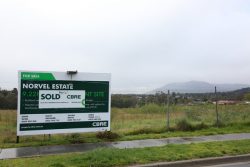 By Derek Schlennstedt
A new 250-townhouse development is set to rise from the former Ferntree Gully Quarry.
The 29Q Norvel Road allotment of 9.22ha is expected to offer primarily double-storey townhouses that feature three to four bedrooms.
When completed, it is predicted that the estate will be a high density estate with 250 houses fitted into an area of 23 acres.
"Predictions suggest around 386 square metre dwellings, but of course you need to include in that roads and public open space … . it eats into the 23 acres, so hopefully the density is not too high."
There was one done on Commercial Road, quite some years ago … that was a smaller version of this," Brenton Wilson managing director at Barry Plant Rowville said.
The project by Hong Se International of China will be the first large housing project in the area in decades, and Mr Wilson said it was rare for such infill sites to be rezoned from commercial to residential.
"Prior to this, the most significant estate was the other quarry, up on Butlers Road,"
"That was very successful and sold in a very quick amount of time," he said.
The Chinese developer paid more than $40 million for the site in November last year, as well as purchasing another development site in Ashwood which cost them another $35.7 million.
The Norvel Road sale, took three months to be completed and part of the allotment is going to be preserved as bushland.
According to statistics in the census, population in the area has slowly increased, which Mr Wilson said had resulted in 'New products becoming hard to come by'.
The new estate will allow that supply to keep up with the demand.
Records suggest that Ferntree Gully's median unit price grew 30 per cent in the past three years to sit at $510,000 in May this year and the median house price was $686,000 after growing 46 per cent in the same period.