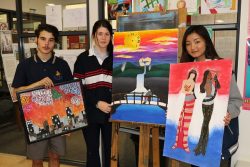 By Derek Schlennstedt
Budding creatives at Yarra Hills Secondary College are enjoying the opportunity to display their work alongside practising artists from across Australia.
The community can view and buy artworks for sale at The Yarra Hills Community Art Show from Friday 15 to 17 September at the school's Mount Evelyn campus.
Students can also enter artworks created independently outside of school hours in the artist section of the show.
Some have received major awards and been commissioned to create further works.
Visual Arts and Technology Co-ordinator Katya Barnes said the art show often launched students into a career within the arts industry.
"This festival helps show the students how to become an artist within the community," Ms Barnes said.
"We've had kids sell their work and they have had work commissioned."
Three school students had their work displayed at Linden Gate Gallery at Yarra Glen earlier this year.
Everyone is invited to attend for a gold coin donation to the Lilydale Rotary Club.
Yarra Hills Community Art Show will run from 15-17 September at Yarra Hills Secondary College.