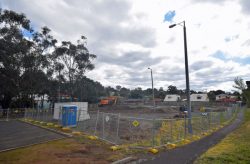 By Derek Schlennstedt
Construction has begun at Ferntree Gully Train Station which will see 215 new car spaces added to the existing car park.
After years of congestion in local streets – including fears of emergency vehicles being unable to get through overcrowded roads – work has finally begun to increase Ferntree Gully's parking capacity.
The parking problem dates back to an election promise made by the State Liberal Government that was followed through by the State Labor Government, with Ferntree Gully State Liberal MP Nick Wakeling advocating for its need.
"I strongly advocated on behalf of residents for this upgrade to occur so it's been pleasing to see the government has delivered this upgrade for the community that is fully needed."
At least in regards to parking this will be great, not only for people who commute but local residents who have complained to me about people parking in the streets."
"From our perspective this was something that was sorely needed and which we have advocated for and I was pleased to see this issue addressed … it was a very clear election commitment," Mr Wakeling said.
"The provision for extra parking is going to provide a boom for Knox residents."
The upgrade is part of the Victorian Government's $20 million station car park upgrades and Ferntree Gully Station was one of 17 which were identified as experiencing high growth in passenger numbers in recent years.
The project is being delivered by VicTrack on behalf of the Victorian Government, and though some existing commuter car parks will be closed, construction is predicted to be finished by December.
For years parking around the Ferntree Gully area has been an ongoing issue for commuters, with many seeking alternative options such as parking along residential streets.
Earlier this year in July Dobson Ward's Councillor Jake Keogh called for parking inspectors to target areas of Upper Ferntree Gully where congestion had led to commuters parking in nearby streets and in front of houses.
Although Ferntree Gully Station has received an extra 215 car spaces, no plans have been made to upgrade Upper Ferntree Gully.
Knox Council said they welcomed the start of construction and looked forward to assisting supporting rail commuters taking the train from Ferntree Gully Station.
"Council is looking forward to the delivery of the car park works as it will assist in formalising and delineating car parking areas to support rail commuters."
"The works result from a consistent advocacy approach council has undertaken with the state over recent years, in calling for the delivery of the project," Ian Bell, director of engineering and infrastructure said.