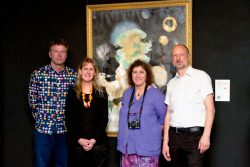 By Derek Schlennstedt
Burrinja calls on artists of all disciplines to respond to climate change on the fringes and be part of the second Burrinja Climate Change Biennale $9000 Art Award.
Applications are now open to emerging and established artists to be part of the second Burrinja Climate Change Biennale.
"This is such an important exhibition and topic for our generation."
"It's wonderful to see so many talented local and national artists presenting work about climate change – being part of this conversation here in the Dandenong Ranges," Burrinja curator JD Mittmann said.
Global in nature, national in scope and local in action, the Burrinja Climate Change Biennale provides a platform of events addressing one of the most pressing topics of our time.
Uniquely situated in the temperate rainforest micro-climate of the Dandenong Ranges on Melbourne's eastern fringes, Burrinja's location offers the perfect backdrop for local and global community knowledge networks to share, learn and expand through the Biennale's wide-ranging public program and macro-themes.
At the centre of the Burrinja Climate Change Biennale is its award exhibition, which provides a space for artists to engage creatively and imaginatively with aspects of climate change.
The exhibition invites and encourages the collaboration of science and arts, through critical thought and creative practise.
The award exhibition will be on display at Burrinja Gallery from 11 November 2017 to 11 February 2018 and three awards will be offered to those who exhibited, including: a $7500 Acquisitive Award, $1000 Young Artist Award (artist under 26) and a $500 People's Choice Award.
The submission deadline is 4pm on 29 September and the official opening and award ceremony will be held at Burrinja on Sunday 12 November at 2pm.