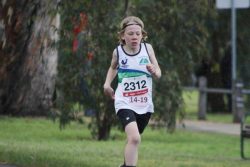 The final round of XCR17 was held at the fast, flat Princes Park, Carlton on Saturday morning.
Ever-changing conditions greeted close to 2000 athletes for the final round, team relays around the 3.2km circuit.
Yarra Ranges Athletics had 14 teams competing in the various grades and divisions finishing with the best placings being a first, second, third and fourth.
Congratulations to the Girls U14s, Girls U16s and Women's U20 teams for winning medals and the Boys U16 team narrowly missing bronze.
The club welcomed some debutants this week including Hayden Rooke, Ashley Rooke, Danielle Graves and Tom Barker.
Great to also see some old faces back in time for the track season.
Unofficial results:
Women's Div 2 10th Amanda Laven 13.07s, Maddie Lum 13.21s, Judy May 12.32s, Georgia Brock 12.51s. Women's Div 4 8th Laura DiGregorio 15.00s, Alexis Sketchley 13.28s, Sarah Love 13.29s. Women's Div 5 13th Katie Clarke 14.47s, Kate Van Duuren 16.18s, Sue McCall 14.28s. Women's Div 5(2) 12th Kathi Hewitson 16.31s, Ashley Rooke 13.41s, Danielle Graves 15.13s. Women U20s 3rd Grace Muller 12.09s, Amy Veenendaal 13.01s, Olivia Twining 12.41s. Women's 16 2nd Georgia Laven 11.07s, Ruby Dixon 11.16s, Zoe Sibley 12.38s. Women's 14s 1st Indi Linde 12.15s, Mia Strudley 12.32s, Maddie Laven 12.01s. Men Div 3 9th Dean Tromp 9.44s, Andy Searles 10.38s, James Anderson 10.41s, Michael Clarke 11.12s, James Laven 12.43s. Men's Div 5 6th, Bryan Ackerly 11.46s, Steve Blair 11.26s, Craig Hewitson 12.17s, Graham Coutts 23.23s. Men's Div 7A 12th Dave Laven 13.33s, David Gorman 12.25s, Jayden Clarke 15.27s, Brent Linde 12.56s. Men Div 7B 7th Lochie Scully 12.06s, Tom Barker 11.55s, Jamie Sketchley 13.53s, Mike Willey 13.25s. Men's 16 11th Taj Linde 12.32s, Liam Russell 11.50s, Camden Hewitson 11.35s. Men's 16 4th Harrison Van Duuren 11.04s, Sam Norton 10.22s, Hayden Rooke 11.42s. Men's 14s 10th Zac Clarke 11.51s, Angus Norman 12.15s, Alex Van Duuren 14.55s.
The club looks forward to seeing you all with friends and family at the next come and try day on Saturday 23 September.
Opening round of the track and field season is Saturday 7 October.
For results, news, photos and more, visit yarrarangesathletics.org.au or check out the Facebook page.