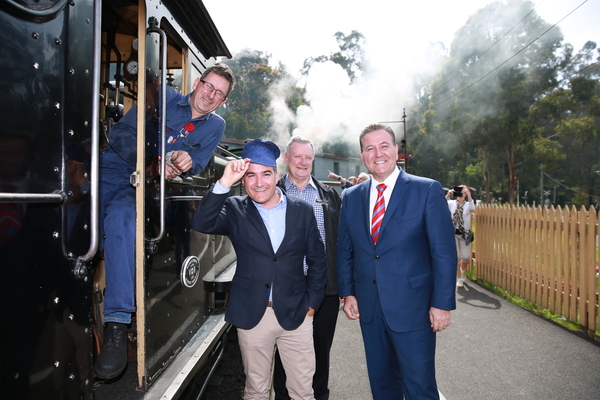 By Derek Schlennstedt
The popular Puffing Billy railway is steaming ahead with the Andrews Labor Government announcing a funding boost of $8.2 million on Friday.
Minister for Tourism and Major Events, John Eren joined Member for Monbulk James Merlino at the Belgrave Puffing Billy Railway Station to announce the funding boost which will be used to improve facilities and create a new discovery centre at Lakeside Station.
"Some 487,000 tourists come to this great location to be part of this wonderful attraction and of that 60 per cent are from international visitation … that's a tremendous boost to our economy, I don't think any attraction in Victoria has that amount of international tourists that come specifically to visit a location like Puffing Billy," Mr Eren said.
"We know you are running at capacity and know that you need to grow."
I know that you have an ambitious plan over the next 10 years to grow this to over 700,000 visitors – we want to help you do it as a government."
With the existing network stretched to maximum capacity, the works are vital to cater for the growing demand of international tourists.
The discovery centre at Lakeside will improve services and John Robinson, CEO of Puffing Billy said it would also help to disperse the capacity to the entire railway – the journey from Lakeside to Gembrook being the less popular option for visitors.
"One of the significant reasons behind the requirement for the discovery centre at Emerald Lake Park will be the fact that it will be an all-weather venue and give a significant lift in visitor experience … just as importantly it will be a kick-off point for the second half of the railway.
"Despite the enormous numbers we are carrying the second half of the railway from lakeside to Gembrook is still fairly lightly patronised."
"This discovery centre will be a major, major boost to our attempts to grow our business into the future … simplistically what we will be able to do is to concurrently run return trains from here to lakeside and return at the same time as we can be running return trips from lakeside to Gembrook and return."
Tourism in the Yarra Ranges creates around 7300 jobs and injects around $560 million into the economy – $10.2 million of that coming from Puffing Billy.
Jason Wood, Liberal Member for La Trobe was pleased by the result following advocacy for the funding in previous years.
Though he admitted it had been tough with the State Labor Government originally attacking the Federal Government's decision in 2016 to allocate over $5 million of funding towards Puffing Billy and the Discovery Centre.
"I could see an absolute desperate need for this project … their funding is crucial as Puffing Billy wouldn't have been able to come up with the funding otherwise."
"We had the prime minister come and announce the package, and it's great to see finally after first of all attacking it that they've now come out in support of it."
"We can now all work together to make this a reality."
Construction on the discovery centre is expected to commence before the end of 2018 and be completed by late 2020.