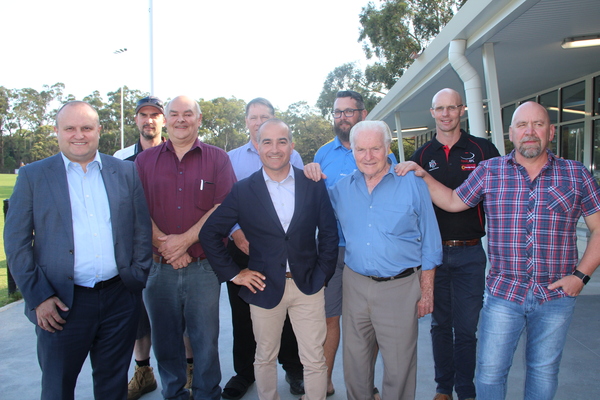 By Peter Douglas
South Belgrave football and cricket clubs celebrated the highly anticipated opening of their new pavilion and clubrooms on Tuesday 21 November.
The new facilities include a multi-purpose room, meeting room, kitchen, change rooms, toilets and umpiring facilities.
In an indication of the level of joint commitment, representatives from all levels of government, in addition to numerous club and community representatives, turned out to mark the occasion.
Football club member and project co-ordinator Ian Bakens was on hand to welcome the long list of dignitaries, thanking them for their contribution.
"These kinds of projects can't be done just on our own, we do need the help of everybody," Mr Bakens said.
"It's that sort of project where everybody has got to dip in their hand and make it known we want to make it happen.
"You've all been the club's best recruits over the journey, though we probably wouldn't want you out there playing games of football."
To get the multi-million project off the ground has required contributions from the Federal Government ($250,000), Victorian Government ($1 million), Yarra Ranges Council ($950,000) and the Bendigo Bank ($100,000).
Also, eight member groups – representing more than 1000 locals across sporting clubs, the Belgrave South Primary School and community house facilities – combined to raise $150,000 towards the construction of the pavilion.
Among the guest speakers at the opening were Monbulk MP James Merlino, Federal La Trobe MP Jason Wood and recently appointed mayor of Yarra Ranges, Len Cox.
Mr Merlino also acknowledged the teamwork required.
"To come here today is just magnificent. It must be a wonderful feeling for all involved to be here finally celebrating the opening of this wonderful facility," Mr Merlino said.
"Having been involved in a number of these projects, I know what a difference this makes to the community.
"There's been a lot of blood, sweat and tears, but what look what it has delivered. This will leave a great legacy for the community."
Mr Wood praised those involved for "keeping the faith when you have those knockbacks" and seeing the project through.
Cr Cox spoke on behalf of ward councillor Mike Clarke, who was an apology.
"It takes a lot of work from so many people to do these sorts of things. If it wasn't for volunteers, life in the Yarra Ranges wouldn't be as good," Cr Cox said.
Also in attendance were representatives from the Bendigo Bank, as well as the Eastern Football League and the Ferntree Gully District Association.
Australian Test cricketer and home-town hero Glenn Maxwell also slipped in to make an appearance.
Meanwhile, Sport and Recreation Victoria's investment is also funding the development of a playground at the reserve, which is anticipated to be completed by mid-2018.