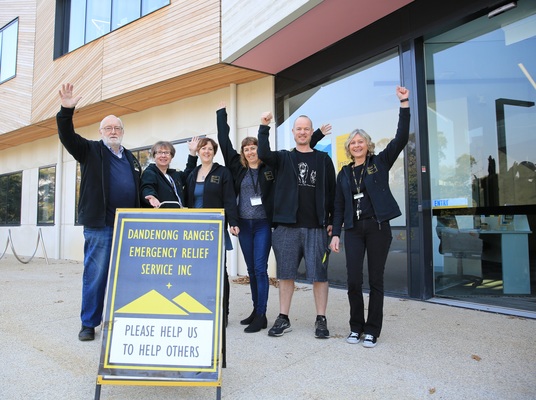 By Derek Schlennstedt
An emergency relief centre is just as its name suggests – a place established to provide support and essential needs to persons affected by an emergency.
Though, for the Dandenong Ranges Emergency Service Group, servicing the community has become more difficult.
As the need increases across the area, so, too, has the difficulty in supporting the community from an aging and cramped building.
Now, 20 years after moving into their little ramshackle cramped space next to the Cameo, DRERS has now relocated to the lower section of the Belgrave Community Hub and have the space to flourish.
Frank Watson, President of DRERS, reflected on the 20 years of community work and how much it's grown.
"I was thinking on the way up here that it all started from a second hand freezer in the workshop under my house, to now a million dollar building … that's not a bad step," he said.
"We're all so pleased to be in this place … it's a whole different atmosphere, to look at a place like this with the rooms we have, the facilities we have, what more could we ask for and we have the support of the council to thank for that."
DRERS offers support to people who are homeless and disadvantaged.
That support comes in the form of food, food vouchers, payment of prescriptions, clothing vouchers, and assistance with paying bills, advocacy, referrals and crisis counselling.
Unfortunately, the need for support in various ways has increased in recent years and Tania Bevan, manager at DRERS, said in their previous location there just wasn't any "room to grow".
"It's light and bright and it's really exciting to be here… we do miss our little old building however this is so much better," she said.
"Hopefully, we can keep doing what we've been doing for the last 20 years but even better; it's more comfortable for us to work in and more comfortable for people to access our service now.
"It makes all the jobs we do easier … we can all work together more closely and make those internal referrals too, if someone comes in for emergency relief and they have eaten for a while we can make them a breakfast to give them a meal straight-away."
With a kitchen, large spacious lunch area, numerous offices, showers and two referral offices, the space is a vast improvement on their previous location.
"It's a really good place for people to come along and have a meal and feel connected with their community, and of course if they need to access the other services in the building it's all in the one place now which is really good," Ms Bevan said.
Yarra Ranges councillor, Mike Clarke, who opened the hub on 21 April, said the new building was a welcome replacement for the ageing, substandard previous accommodation.
DRERS is open Monday to Friday 9am-12:30pm at the Belgrave Community Hub.