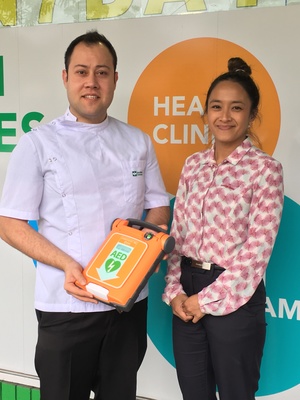 Chemists in Upwey and Belgrave are now armed with defibrillators.
The Dandenong Ranges Community Bank Group launched its Special Defibrillator Sponsorship program this month by gifting the Cardiac Science G5 Automatic External Defibrillator machines.
Chairman John Waters said the defibrillators would be accessible to anyone in the main streets in an emergency.
"Our board voted unanimously to run this special sponsorship program so that clubs and groups within our catchment can have the opportunity of securing a defibrillator," he said.
Upwey Community Bank branch manager Abigael Jamieson said Terry White Chemmart Chemist in Upwey would make its AED machine available in an emergency.
"You just never know what's going to happen in life and having an AED machine in a handy location such as the chemist located centrally in the main street – it's something that everyone can make a mental note of and hopefully use if the need is there," she said.
Belgrave Community Bank customer relationship manager Teresa Spruhan presented pharmacist Arthur Kyriakos from the Belgrave Community Pharmacy with a defibrillator unit.
"As well as working across the road, I'm also a local resident and it's good to know that we have access to a machine in our township," she said.
"Waiting for an ambulance versus using an AED may make the difference to someone's life."
Mr Kyriakos said he couldn't wait to train his team on how to use the device.
"Like an insurance policy, we hope we will never need to use the AED unit, but it's really reassuring knowing it's there if we ever do need it," he said.
Not-for-profit community groups can apply to Dandenong Ranges Community Bank Group until 31 October, and the board will notify applicants towards the end of November.
More information and the application form are available from the Upwey, Belgrave or Cockatoo branches, admin@drcbg.com.au or 9754 6540.