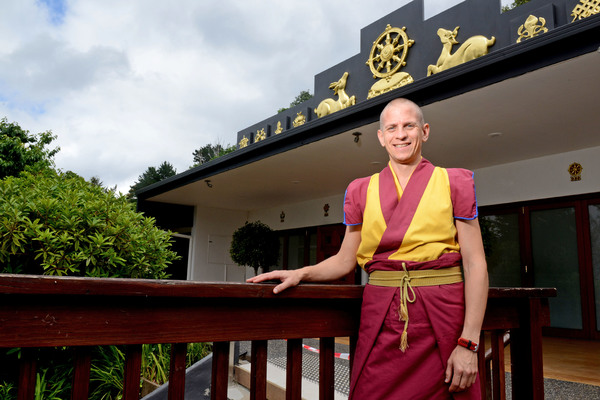 Nestled atop a hill overlooking fields of flowers in Monbulk, Kadampa Meditation Centre Australia (KMCA) is a peaceful sanctuary that will open its doors to the public on 9 December.
Visitors will have the opportunity to engage in free meditations, tour the temple and see the beautiful Buddha statues.
Outside in the garden there will also be an array of activities for everyone to enjoy including a garage sale, jumping castle, gift market, treasure hunt, and much more.
Resident Teacher and Buddhist monk Gen Dornying invited the community to come enjoy the properties tranquil gardens and also if they so feel, learn a bit about meditation.
"We've got such a beautiful property and temple that we just wanted to open the door to the local community and let everyone come and experience it for themselves," Gen said.
"The real central activity is we are going to be running free meditation classes through the day … short 15 minute drop-in classes so that people can also get a taste of genuine happiness while they are there.
"That's what we really want to offer them – some peace and happiness."
KMCA is home to a residential community of monks, nuns and lay practitioners, and offers in-depth study programs for those wishing to increase their understanding of Buddhism.
Gen Dornying said the centre provides simple, but practical methods to improve the quality of one's life, but also specialises in courses focusing on helping with anxiety and depression.
He welcomed the community to come and visit and try the free meditation sessions that will be available on the day but added that there would be plenty of family friendly activities.
"We've got a big garage sale, a café with a few different food options, a boutique ice cream trailer, and then for the kids we've got a treasure hunt and a teddy bears picnic, and there will also be meditation classes aimed at the kids."
"The main thing is everybody is welcome even if they just want to drop in to have a sticky beak," he said.