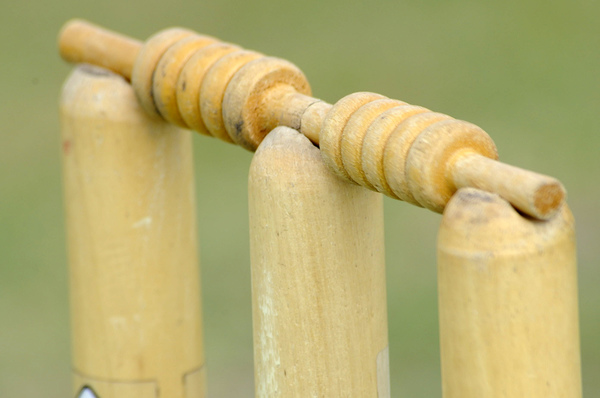 With week one washed out, the Monbulk ones hosted St Johns/Tecoma in a one day game at Silvan in a bid to reclaim second spot on the ladder.
Batting first, after several crisp boundaries to Shane Cosstick and Tom Watson, the latter was undone after a pad-smashing caught behind.
Braden Taeuber and the skipper set about plundering boundaries, with plenty of freebies to dispatch.
After putting on 63, Braden (41) shelled a catch and brought Jason Fraser to the crease.
Continuing on, Cosstick (70) and Frase added 77 for the third wicket, before both fell in close succession.
The last eight wickets fell for just 39 runs and the Hawks were bowled out within 38 overs, having been gifted 30 runs in wides and no balls.
With the game in the balance, Braden and Chris Martin opened up, creating a number of chances before eventually Duncan Maher broke through to have the first wicket fall for 32.
Craig Broekhof bowled an excellent spell, claiming 3/43 while Fraser also hit perfect lines to take 3/32. With the game all but over, it was left to skipper Shane Cosstick to bowl himself an over, but couldn't get a wicket so Duncan Maher chimed in to claim the last (3/50).
With excellent glove work and great catching, it was a good afternoon in the field.
The twos were chasing 175 against top side St Johns/Tecoma, and with Tom Berman, Aaron Gillard and T.J Utting in the sheds for 3/25 it was looking grim.
A 26-run partnership between Daniel Clark and Tom Badgery got things back on track, before Badge fell for 25, with Clarky following soon after.
With the score on 5/81 constant wickets started to fall, with Dylan Goldberg (22) and Jett Bolton (19) providing resistance.
The Hawks were eventually bowled out for 130, which was a shame given the total was certainly in reach at all times.
The thirds took on Belgrave in a one-dayer and look to be cruising into the finals in the right form.
An opening partnership of 70 between the big ship Simmo (48) and Liam Mackin (45) got things started, with support provided by the ever-smooth Jason Dekkers (47*).
Defending 182, the Hawks were on the hunt early, having Belgrave 2/16.
Wickets were shared around, with the silky skills of Jason Dekkers taking 4/12 to get the job done.
With a top two spot locked up the thirds are primed for a big month.
The fours had a mountain to climb in their match against the Footballers.
Resuming at 2/186, the Footballers kicked on to post 7/401, with wickets shared among the Hawks.
With the bat, Brayden Caldwell batted with purpose to make 100* and was well supported by Jackson Oldham with 42*.
With a total of 9/222, it was a few short.
In junior news, the under-16s had a loss to South Belgrave by a fair margin.
Jett Bolton (19) and Nick Taylor (18) got starts to get the Hawks to 6/70, while South Belgrave finished on 3/146, with no multiple wicket takers.
The Monbulk/Olinda under-14s defeated Mazenod A with a good team performance.
Matt Abraham (28*), Ethan Blenkiron (27*) and Josh Davis (27*) plundered the runs to 5/126, while Josh Davis again (2/5) and Alex McDonald (2/23) restricted the opposition to 7/116.
Chris Defina's under-13s hosted Mountain Gate at home and came up short in a good display.
Mountain Gate made 6/133 with Abel Teese (2/5), while with the bat Will Tyquin (15), Tim Rickard (21) and Todd Mackay (19*) got the score to 10/95.
On Friday night the under-12s played out a thriller against Eildon Park.
Both teams finished on 88, with the Hawks' best James White (2/6), Jason Abrahams (three catches, one run out and 21*) and Charlie Hooper (23).
The Fast 9s had a big win, making 4/77 against Rowville.
With the bat Ethan Knight made 20*, while Brock Downey took 3/5 and Bailey Pascoe took a blinder of a catch to restrict Rowville to 11/44.
The Super 7s made 8/129, losing to Lysterfield 5/141.
Owen Griffiths batted well to score 11, Jasper Beer notched up his 100th run for the season and Bailey Trinick got his 50th. Quinton Kelly took 1/4 from his overs.