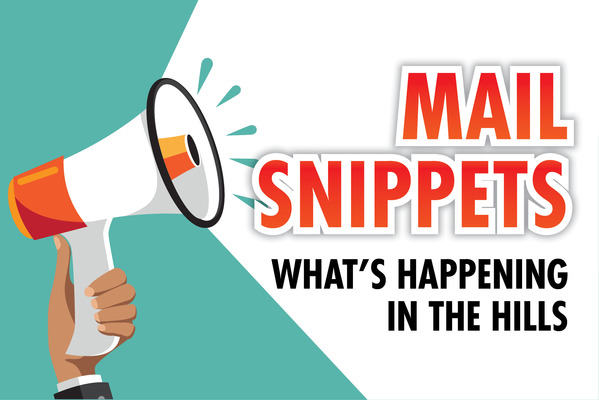 Dawn lyrebird survey
Volunteers are invited to experience the lyrebirds of Sherbrooke Forest and participate in the 2019 annual dawn surveys. The survey groups will meet at 6am sharp at the Grants Picnic Ground shelter, Kallista (Melways map 75, K4). Survey dates are 22 June and 6 and 20 July. Breakfast is provided by Parks Victoria after the survey. Email alexmaisey@hotmail.com or call Alex on 0430 616 622 to register.
Refugee Week
Dandenong Ranges Music Council (DRMC), in the Upwey High School grounds, will host a concert of classical music on Sunday 16 June at 1.30pm. Local musicians will present a program of classical music by composers such as Debussy, Prokofiev, Telemann and others. The event is $20 and includes afternoon tea. Proceeds go to Kindred, which supports people seeking asylum.
On Refugee Day, 20 June, at 6pm a potluck dinner will be held at Tecoma Uniting Church. Local asylum seeker support groups will meet together over a shared dinner. All people interested in supporting people seeking asylum are welcome to join. They just need to bring a plate to share. Call Prue Licht for more information, on 0447 546 327.
Not sure what to study?
Cire is holding free 'explore a career' taster sessions. Choosing a career can be daunting for many and at Cire they understand that making the right choice when it comes to further study can be the difference between gaining a qualification and dropping out of a course. Three sessions will run on Tuesday 18 June from 10am to noon, 1pm to 3pm and 6pm to 8pm at Cire Training, 211 Main Street, Lilydale. Register on 1300 835 235.
Burrinja Circus Festival
Get clowning and capering like a professional with the raucous folk from RUCCIS. Burrinja will once more be morphing into a big top these winter holidays for the seventh annual Circus Festival. With an array of professional shows, student shows, classes and family activities for all skill levels and interests, let Ruccis Circus and Burrinja make the school holidays an adventure to be remembered. The festival will run from 29 June to 7 July.