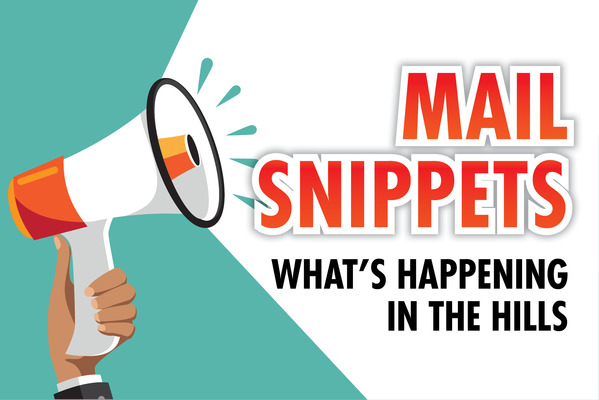 CFA Funtime Storytime
Eastern Regional Libraries' Sue, Fiona and Rusty Arnold will join with Graham, April and Alan from the CFA on 5 July for a fun story, a fire safety show, craft activities, plus a look at the fire trucks at the Ferntree Gully CFA. More than 2000 children, parents and grandparents have attended the Funtime Storytime program over the past five years. Funtime Storytime will be held on Thursday 5 july from 10am to 11am. Bookings are essential and can be made on 1300 737 277.
International Children's Film Festival
LLICFF is a festival of films made by young people. The inaugural festival will start on Friday 21 June from 7pm and will feature films from schools in Healesville, Menzies Creek, Coldstream, Kallista and many more. On Saturday 22 June at 11am the official selection of under-12 movies will start, followed by a Ranges Academy Of Performing Arts Q and A at 1pm and the teens official selection at 3pm. Following the Belgrave Lantern Parade, free entry is being offered for the awards night at 7.30pm. On 23 June at 11am, a Q and A with the under-12 movie makers will be held, followed by a Q and A with the teen movie makers at 1pm and the official LLICF award ceremony at 5pm. All the events will be held at Cameo Cinemas in Belgrave. Visit llicff.org.au for more information.
Monthly community dinner
The Hills Edible Villages Project hosts a monthly sharing dinner at the Kallista Community House. Guests can join in on Wednesday 19 June from 6.30pm with a plate of food to share and a gold coin donation. The topic for this dinner will be: Creating a Hills Edible Village in Kallista. Inquiries: Christina 0424 100 420.
Cockatoo Community House
Residents in the Cockatoo area can drop in on Sunday 23 June between 11am and 3pm to Cockatoo Community House, 23 Bailey Road, Cockatoo. Free activities will include art, face painting and a mobile animal ark for the kids, interactive demos of upcoming classes and a drumming workshop at 11.30am. There will be a free barbecue and cakes made by the CWA.
One map to rule them all
The Mount Evelyn Community House will launch the Mount Evelyn Tolkien-style inspired map by local cartographer Adam Mattinson Maps on Sunday 7 July at 11am. Adam will be sharing with patrons his influences on the local map as well as an insight into cartography. He will have the Mount Evelyn map for sale on the day as well as some of the other completed maps in this series. This will be a fun and informative event for all ages. RSVP by 3 July on 9736 1177. Entry is a gold coin donation.
Life Activities Club Knox
On 10 July the Life Activities Club Knox will be carpooling to Gulf Station in Yarra Glen. The station has an interesting history back to the 1850s and has been acquired by the National Trust. A week later, LACK will experience live glass blowing and then a tour of a gallery. Call Helen on 9729 1151 to book. For more information about the active, friendly club call Carol on 9727 2726 for a copy of the newsletter.
Drop-in session on car park
Belgrave residents are invited to help shape the design for Belgrave Railway Station's new multi-deck car park at community information sessions on Thursday 13 and Thursday 20 June. For more information and to complete the online survey, visit victrack.com.au/belgrave.