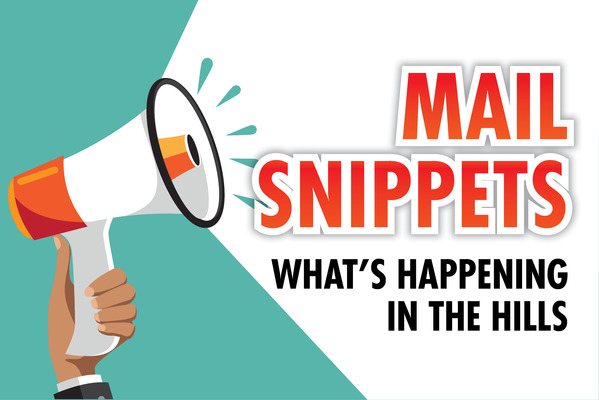 Upwey U3A
Ross McDonald will present on his native garden at the Upwey U3A garden group at the Upwey Senior's Community Centre, 6 Mahony Street, on 11 September at 7.30pm. Supper will be provided. Inquiries: Barb 9754 3877.
Upwey Country Music Club
The Upwey Country Music Club is holding its annual SES fund-raiser show at the Healesville RSL on 15 September. With leading artists Up Country Band, Pott Luck, James Gang, Movin' On, Karen Flanagan and many more. Entry is $5 with all funds raised going to the SES.
Monbulk Men's Shed
Monbulk Men's Shed is holding a garage sale at 1A Moxhams Road, Monbulk (at rear of Open Door Community Church) on Saturday 5 October. There will be a collection of bric-a-brac, furniture, toys and tools on sale from 9am.
Art show
Mount Evelyn and Yarra Valley Art Society is hosting the Yarra Valley Observed exhibition at the Warburton Arts Centre from Friday 6 September to 15 October.
Trees and weeds swap
Cardinia Shire Council and the Friends of Emerald Lake Park are hosting a Trees for Weeds Swap at Emerald Library on Saturday 7 September from 10am to 2pm. Cardinia residents will be able to trade a bag of weeds for a free local indigenous plant at no cost. Attendees can ask the experts for help to identify weed species and learn ways to control weeds on their properties. Visit www.cardinia.vic.gov.au/events/event/814/trees_for_weeds_swap_event for more information.
Monbulk Market Day
Saturday 7 September is the date for the spring Monbulk market in the park. The market is held in the foyer and halls at St George's Anglican Church on the corner of Main Street and Silvan Road in Monbulk from 9am. Stalls will sell books, cakes, cards, children's wear, clothes, cosmetics, cushions, dolls, embroidery, food, gifts, jams, jewellery, knitted animals, lamps, leadlight, lotions, nuts, plants, preserves, soaps, socks, toys, cottage crafts, exotic crafts, local crafts, wooden crafts. Stall holder inquiries: 9756 6038.
Mount Dandenong U3A
The Mount Dandenong University of the Third Age is running a series of computer classes, and is holding an open day at its hall in Mount Dandenong on 21 September.
Sherbrooke U3A lunch
On Friday 13 September, Sherbrooke U3A will hold its end of term lunch at noon at Upwey Seniors Community Centre, off Mahony Street, behind the Upwey village shops and carpark. Attendees should bring a plate of food to share for lunch. Robert Dawson will be the guest speaker, on Puffing Billy. Visitors welcome.
Mount Dandenong U3A
Prospective students can drop into the Mount Dandenong U3A to see how they can improve their computer skills through free tutor-guided classes. The courses are based on Be Connected – an Australian Government-sponsored program – and are suitable for beginners and those who wish to extend their knowledge. Classes are run by U3A Mount Dandenong at Farndons Hall, 42 Falls Road, Mount Dandenong. Visit www.u3amountdandenong.org for more information. All are welcome. To book, call David on 0491 064 569 or email u3amtdandy@gmail.com.