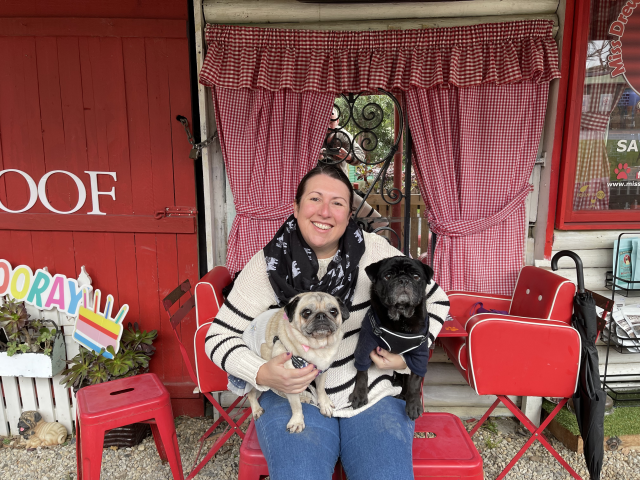 By Tyler Wright
It'll be a very puggy Halloween in Tecoma as people gather with their furry friends for a good cause on Sunday 29 October.
The spooky season event is set to raise funds for three pug rescue organisations; including Pug Rescue and Adoption Victoria and Saffron on the Hill in Victoria and the nation-wide PugsSOS service.
Attendees will also be able to dress up with their pup to win prizes donated and sponsored by local businesses.
Melbourne Pugoween event organiser Donna Kean, who is also the administrator of the Pug City playgroup in Ferntree Gully, said the pug rescues are "heavily reliant" on donations without consistent government funding.
"They will apply for grants where they can, but at the end of the day a majority of their donations actually come from everyday men and women who either love pugs and can't have a pug themselves, or who are like me [who has] been a crazy pug lady for the last 20 something years," Ms Keane said.
"The fun part of Pugoween is getting dressed up; both the humans and also the pets."
Ms Kean is looking to raise $3,000 – $1,000 for each rescue organisation – at this year's event.
Past Pugoween events have raised anywhere $500 to $2,000.
"To be part of the dress up competitions we ask for a donation…every dollar goes to the three pug rescues," she said.
Prizes for best dressed will be donated by local businesses.
"This year we've been really lucky in that we've actually probably gotten the most prize sponsors we've ever had, which has been absolutely amazing," Ms Kean said.
"It says a lot about how much people want to help out pugs, especially noting that their surgery costs can go into the thousands just for the basics."
Ms Keane said pugs end up in the care of a rescue as a result of owners either neglecting their dog or not understanding how to care for their pug adequately.
"There are plenty of people that I have seen that have surrendered their pugs because it was actually the best thing they could have done for them; and it was because they didn't understand what it was to care for their pug," she said.
"It's one thing to give them food and take them out to the toilet and have water; pugs are very human-centric dogs, so they want to be inside with you, they want to be on the couch, they want to sleep on your lap.
"The best part about being a pug paw-rent is that you have this beautiful little dog that will love you forever and a day and all you have to do in return is take care of them."
Ms Keane said events like Pugoween, which has been held for 11 years, not only help raise money for rescue organisations but educate people on how to look after their pug.
"Things like keeping their nose fold clean, keeping their ears clean, keeping their eyes clean and protected, giving them a bath every couple of weeks; all those little basic things that you can do and that you've got to do on a regular basis, it actually cuts out half of your vet bills," she said.
Ms Kean's own pug – Kenji – was a 'foster fail' from Pug Rescue and Adoption Victoria who was taken it by a family who fell in love with him.
"[Kenji] had over $12,000 spent on him because he was paralysed when he was left at the rescue," Ms Kean said.
"He had a cyst on his spine that needed to be removed; and if the previous owners had done something about it earlier he wouldn't have been paralysed."
With an initial poor prognosis by a vet specialist, Kenji is now a ball of energy after surgery, not only walking, but running, at the park during weekly play groups.
"All that surgery was paid for by donations," Ms Kean saud,
"That's the driving force behind having Pugoween every year; having loads of fun and getting people to donate towards that cause.
"Saffron on the Hill and PugsSOS do actively look for puppy farmed pugs, so that they can rehabilitate them and obviously get them out. Saffron does also tend to have more what we call geriatric pubs which are over the age of 10."
Those who have their own pug – or want to help support pug rescues – are welcome to donate via the Mycause page at https://www.mycause.com.au/p/323163/melbourne-pugoween-2023
The event will also see a dog groomer and obedience trainer sharing advice with dog owners.
Melbourne Pugoween 2023 will run from 11am to 1pm on 29 October.
Those interested can find more information, including the location, on Facebook via the following link: https://www.facebook.com/events/6363664233742870
Dress-up categories will include:
• Best 'hooman' and pug outfit combination
• Most scariest costume
• Best dressed Pugoween pug