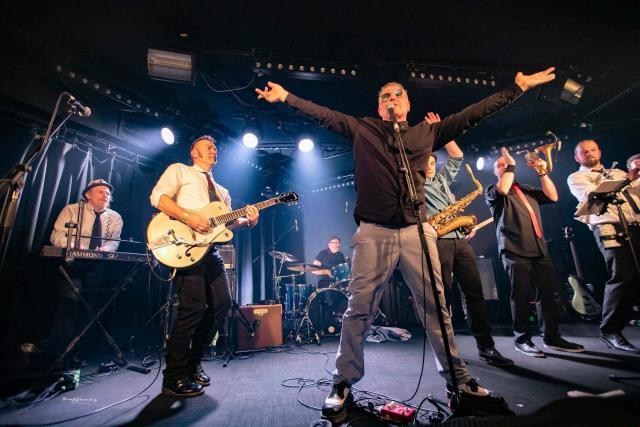 By Tyler Wright
After humble beginnings starting as the brainchild of two teenage friends in Boronia, ska band Loonee Tunes is back in force with new band members to boot.
Adam Timms, frontman and vocalist, said Loonee Tunes formed in the '80s with the musical prowess of himself and his best friend at the time.
Timms' uncle – a saxaphone player – took him under his wing at a young age and inspired his nephew.
"I saw him play when I was about eight or nine, [I thought] 'that's what I'm going to do' – he was a saxophone player, 'I want to be at the front, I want to be at the front where girls can see me.'"
At 16, Timms went from skateboarding to playing in his band; drawing inspiration from bands Madness and the Specials who had taken the UK by storm.
"At the time we ended up playing a gig in Melbourne – I only turned 17, so I was underage – but there was a big scene there, there was 500 kids [at the gig], which just doesn't happen very often," Timms said.
"Every gig we played, we had big crowds; we played with good bands in good rooms.
"It's been a really great brotherhood playing music… we've never played to an empty dance floor in our lives."
The ska genre originates from Jamaica in the 1950s; combining Caribbean mento and calypso with American jazz and rhythm and blues to form a reggae sound.
"In the 90s, there was a lot of punk bands in America doing the third wave ska music , now we're doing it again," Timms said.
"It's always been very successful as far as gigs go.
"People go 'what's ska music?'… when they come to our gigs, there's eight guys jumping around on stage with suits, hats and glasses – it's not the Blues Bothers, it's more upbeat than that, but it's got this really good infectious vibe."
After several hiatuses, the band has recently reformed; playing at Max Watts in Melbourne's CBD with English band Bad Manners to a crowd of 800 punters two weeks ago.
"We played Prince of Wales bar in St Kilda and there was another massive crowd there for a ska tribute band," Timms said.
"We've been lucky enough this time around, we played six gigs and I think five of those have been in front of 500 plus people, which is pretty good for us."
Timms is set to return to his hometown with his band for a performance at Sooki Lounge in Belgrave on Friday 5 January next year in a massive night for the ska genre.
"It's about the third time the band's come back together over all these years and it's been going better than ever," he said.
"I used to do [Sooki Lounge] every year, it's my birthday in December so we used to try and book a gig around the same time to make it a bit of a party night so to speak.
"The first couple of times were crazy good, and then before Covid it kind of slowed down a little bit and we haven't played there for three years now."
Loonee Tunes is also set to perform at Colac's Ska Nation Music Festival in December this year.
"There's something about this band that's why we keep coming back to it after all these years; when we play, people get involved and it's really infectious," Timms said.
"There's only a couple of original members, we've got a lot of young guys playing with us who are really, really good players and we're playing more covers recently.
"My daughters were there last time, they were in the front few rows and the big smiles on their faces…they've seen me play gigs over the years, just three people on a Sunday afternoon or whatever, they've come to St Kilda band room and the place packed and people going nuts – and it's really quite rewarding."
To purchase tickets for Loonee Tunes' gig at Sooki Lounge, type the band name into Oztix.
To keep updated with the outfit, visit their Facebook page of the same name.