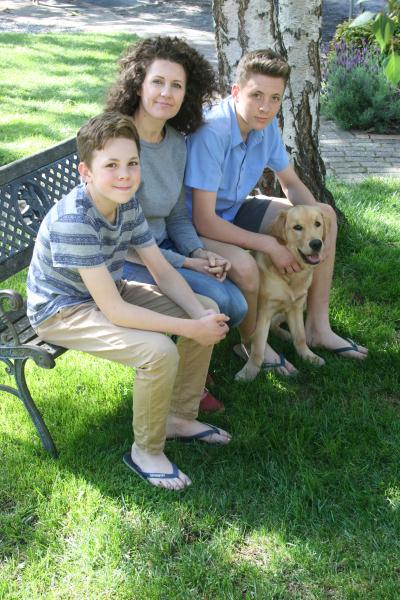 By REBECCA BILLS
BELGRAVE resident Sarah Fountain and her family are currently first time carers for Seeing Eye Dogs Australia (SEDA) puppy Emma.
Volunteering their time and home for puppy-in-training Emma, Mrs Fountain said it has been the best and most rewarding decision for her family to welcome the new member.
"For us, the children hadn't had a pet for a few years so you have to think will they be responsible for it, will they care for it and will they keep their promises to care for it," she said.
"It probably sound a little bit selfish because we were in the position where we had travelled a lot and didn't want to take on a pet thinking we would have to have it long term.
"However it has turned out really brilliantly for us because the boys adore her, they have lots of energy and Emma has lots of energy too."
Mrs Fountain and her four children spend a lot of time looking after Emma and teaching her basic obedience lessons.
"They actually think she is breaking all the golden retriever moulds as she is just showing such incredible traits," she said.
"She is actually a very calm dog when you compare her some of the other seeing eye dogs in the training.
"The dogs are meant to be quite desensitised, so we expose Emma to as many outside influences as we can to observe how they react."
After seeing an advertisement in a newspaper, Mrs Fountain said the family decided to apply for a seeing eye dog to give back to a greater good.
"It is really striking to see how intelligent these dogs are and how helpful they are," she said.
"You are not just selfishly putting into these dogs for your own pleasures, it is part of a much bigger picture that it is contributing to."
Mrs Fountain's son Will said welcoming Sarah into the family has been a good exercise and it has been rewarding watching all the hard work they put into training Emma paying off.
"At the start it was hard but now it is getting easier because she is learning really fast," he said.
"We know that when she goes to the blind person she is really going to help them.
"It's going to be really hard when we have to say goodbye, we are getting attached to her and we will miss her."
SEDA is the only national provider of seeing eye dogs and rely entirely on generous donations from the community.
It costs $30,000 to raise and train just one seeing eye dog and with a yearlong wait list, there is increasing demand for the service.
Those who are interested in becoming a puppy carer or who would like to find out more about Seeing Eye Dogs Australia can visit www.seda.org.au or call 1800 037 773.