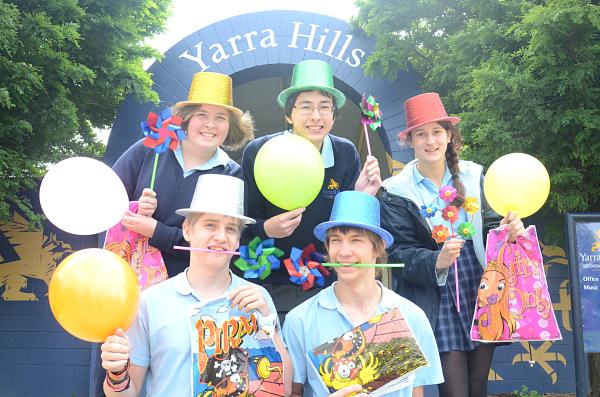 By REBECCA BILLS
IN A bid to raise $10,000 towards projects chosen by the students, Yarra Hills Secondary College Mount Evelyn Campus is hosting a family fun day.
The school relies heavily on the generosity of parents and the community to assist in funding costs associated in running the school and this is set to be its biggest fundraiser in more than five years.
Fun fair organiser and parent Lisa Robertson said by the time children reach secondary school, the level of funds raised greatly diminishes due to fundraising "burnout."
"This is simply human nature, however an unfortunate fact," she said.
"Mindful of the perception that fairs are only for 'little kids', we are committed to making the day an event for all ages, including our teenagers," she said.
"We have a mix of attractions and entertainment for all ages, along with the always popular fair favourites."
Ms Robertson said acting campus principal Robyn Dew has always encouraged the students to provide suggestions and discuss ideas on things that they would like on the school grounds to improve their schooling experience.
"Simple requests such as painting the basketball courts, additional seating areas throughout the grounds, or an outdoor garden and barbecue area are simply not possible to fund without calling on the community to come and support our big day," she said.
"The students are an integral part of the day's planning also, with their enthusiasm buoyed by knowing the more money we raise, their 'wish list' becomes a closer reality."
Attractions at the family fun fair include free professional skateboard demonstrations and live music with a 30 metre slide, Harley Davidson rides, a monster trash and treasure stall, market stalls, Devonshire tea and much, much more.
Mr Robertson said with Christmas just around the corner, it is a great opportunity to pick up some local handmade presents that will not break the bank.
This year as part of the family fun fair a major raffle is being held with first prize a $500 Coles Myer voucher, second prize a $300 IGA voucher and third prize a $100 IGA voucher.
Yarra Hills Family Fun Fair is on Saturday 23 November from 10am to 3pm at Yarra Hills Secondary College, 15 Burdap Drive, Mount Evelyn.
For more information on the event or to purchase raffle tickets, call Lisa Robertson on 0417 347 730.