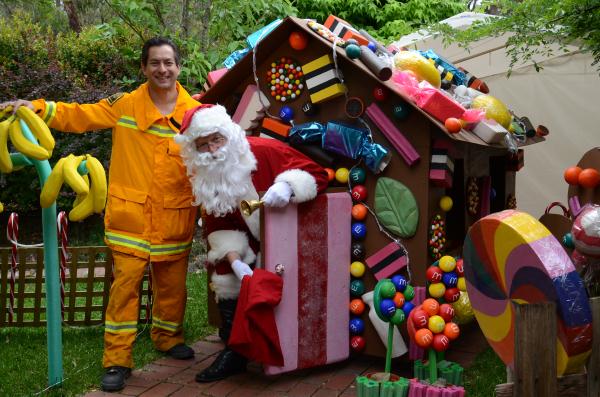 By REBECCA BILLS
HUSBAND and wife duo Phil and Fiona Spencer are opening their home for the third annual Miniature Village and Christmas Display.
The display will help raise much-needed funds for the Macclesfield CFA brigade where Phil serves as Second Lieutenant.
Fiona said this year's display was sure to impress visitors.
"We started planning and preparing for this year's display just three days after last year's display closed," she said.
"We make most of the displays ourselves so that is why it is such a long process.
"This year we also have a shop area selling some wonderful gift ideas."
The couple's Christmas display commenced in 2011 from their personal collection of decorations and has grown into an attraction to help raise money towards buying a new community-owned tanker for the station.
Phil said Macclesfield was a small community with a limited number of people living there – making it difficult to keep fund-raising.
"We go out in strike teams and help out other stations so we too need good equipment," he said.
"We are working towards replacing the community owned tanker which requires $330,000.
"The display is just one way to bring people into the area and donate towards us reaching our goal."
Last year just under 1000 people come through to visit Macclesfield and tour the display.
Phil said the Macclesfield CFA was around a third of the way to their target amount for the new tanker.
"It is still going to take a few years for us to get there but we are committed to a few more displays yet," he said.
"This is one of the few fund-raisers that we hold at our house to raise money for the Macclesfield Volunteer Fire Brigade."
According to Fiona, there is something for everyone at the display with Santa's workshop, a nativity scene and Santa's mail box and a new HO train layout to name a few.
"The detail in these displays is something you have to see to believe," she said.
"Adults love the details and kids love the magic of it all.
Entry is $5 with children aged under seven years just a gold coin donation.
The Miniature Village and Christmas Display is located at 515 Macclesfield Road, Macclesfield.
For more information, call 0499 651 213 or visit christmasdisplay.com.au.