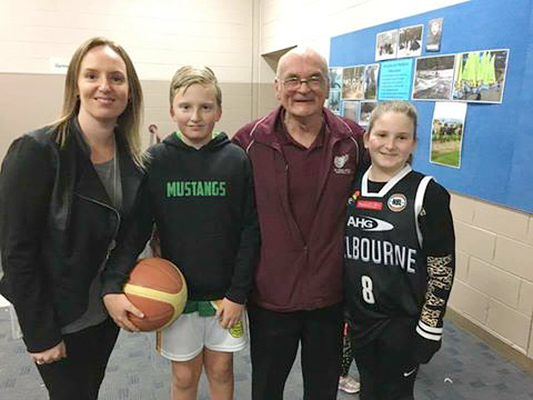 By Peter Douglas
Mount Evelyn Meteors said farewell to a club stalwart recently, as beloved coach Daryl LaVelle packed up his sports kit for the final time.
After coaching countless junior basketballers over an incredible 40 years, Daryl has decided to hand over the reins to a new generation.
LaVelle has been instrumental in building up the club to what it is today, after being one of the club's foundation members.
Club president Roger Bland said many in the region would have lasting childhood memories from their time with Daryl.
"Daryl coached both boys and girls through all age groups, from mini-ball to the under-21s," he said.
"He's well known in the area, he's a life-member of both the Kilsyth and Mountain District Basketball Association, and the Mount Evelyn Meteors.
"He'll be missed around the club, particularly among the players, who just love him."
Daryl has earned the respect of many, through encouraging players to achieve their potential in basketball.
The club said he always offered up his time for youth and was always ready to help out with advice to players, or mentoring younger coaches.
On Sunday 28 May, the club hosted a sausage sizzle and send-off celebration at the Mount Evelyn campus of Yarra Hills Secondary College, which many former players and parents attended.
The news of his retirement was posted on the club's Facebook page, where plenty of well-wishers posted fond memories of their guidance under the master coach.
Jenni Cross posted; 'What (a) great coach you were Daryl. Tough but fair with a great sense of humour'.
Rob Dielemans posted; 'Congratulations on what you have achieved in your time at Mount Evelyn, Daryl. You are a legend of the club and will be missed by many around the association. I take my hat (off) to you and wish you the very best in retirement'.
Lou Williams wrote, 'Oh, I love this guy! Such a legend and such an awesome, cheeky coach, so many awesome memories with Meteors'.