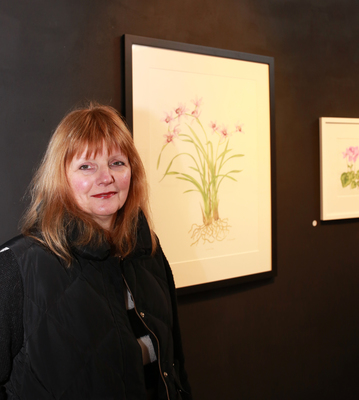 By Derek Schlennstedt
To coincide with the change in seasons, Belgrave illustrator and watercolour artist, Susie Parry is unveiling her new exhibition that reflects the cycles of plant life and human life.
Her passion for beauty, the intricacies of natures and the vibrancy of colour and how light falls on objects have led her to the intimate connections between humans and nature which feature in her exhibition.
Her solo exhibition, called One Step at a Time features at Burrinja Gallery and showcases flowers and objects she has found in her backyard and in the Dandenong Ranges.
"I go to Grants picnic ground three to four times a week – the staff there know me now," Susie laughs.
The exhibition includes over a year's work of detailed illustrations which represent growth in nature and in life through the use of plants.
Susie portrays this growth with works of leaves, flowers and shoes which she said symbolised human growth.
"While I was walking I looked down once and saw my foot among a really nice composition of leaves and that's what started it," she said,
"What makes us is our genetic and parents' DNA and our surroundings, which will determine who we are and the shoe is the only piece of clothing that shows our growth."
"The shoes represent our growth and the paths we take."
The exhibition illuminates a message of beauty, hope and assurance – to be present in our lives through the different stages of development as we remember to continue to take one step at a time.
The exhibition is at Burrinja Gallery until 23 July.
Susie also offers classes during the week at The Selby Community House, as well as classes during the weekend. For more information visit susieparry.com.au or call Susie on 9754 6157.