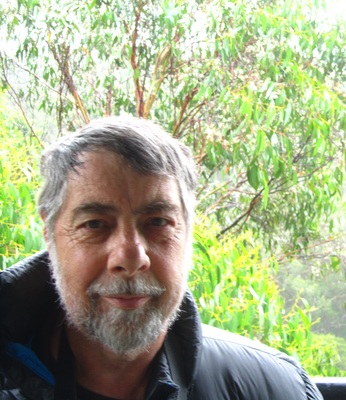 By Derek Schlennstedt
It's difficult to convey the sadness when an enduring member of the hills community passes, especially in a small township where every loss has a profound impact.
That loss has certainly been felt in the Upwey community with the sad loss of loving father, husband, CFA member and well-known larrikin Allan Duncan, who on 5 August passed away after a long battle with cancer.
Allan was born in 1946 and grew up in Warrnambool and attended Warrnambool High School, where he immediately set about utilising his practical knowledge and hands-on skills to help the theatre with their productions.
These skills would follow him his entire life and he enjoyed himself best when he was working on anything mechanical or electrical.
"He held himself as an experimentalist – he liked to look into things, find out how they worked, and would then find out what the solution was if there was a problem," his wife Margaret said.
It was no surprise then that Allan would follow a career in telecommunications, and after studying science at Melbourne University in 1964 he went on to major in engineering and electrical engineering.
It was during his time at university studying where he met Margaret, and as they say the rest is history, with the two marrying four years later in 1970.
With Margaret his family grew and together they had three lovely daughters and two sons, all born between 1972 and 1985.
In 1975, after meeting with a colleague who lived in the Upwey area, both Margaret and Allan 'fell in love' with the area and agreed to move.
A year after moving to the area, he joined the Upwey CFA and unbeknownst to him at the time would dedicate 40 years of active service to the local station – even helping run the junior brigade.
"I think we just had to have this community spirit in our family – it was something he did – you helped the community," Margaret said.
It wasn't long before Allan's charismatic and hardworking character saw him become a well-known and much-loved icon of Upwey and he soon became famous around the Hills as the person who owned the Hillman Imp – which he drove despite the well-reported holes it had in the floor.
One particular well-known story from the 1990s that summed up Allan and his Hillmans relationship was that he drove the car from Upwey to Traralgon for the Junior State Championships, where he was a judge. Upon arrival in Traralgon his car was leaking oil and so over the weekend he not only cared for the Upwey Juniors and judged the State Championships, but also pulled the engine out of the car, re-built it, fixed the leak and put it all back together again to drive home to Upwey.
"He was very fond of his Hillman Imp," said Margaret.
"I thought it was awful to drive but he loved it – his father had been a motor mechanic and that was one thing that Allan was very good at, fixing cars, in particular his Hillman."
Throughout the 42 years of living in Upwey, Allan dedicated 40 of those to the Upwey Fire brigade and in those years was awarded Upwey brigade Life Member, a VFBV Gold Star Award, the National Medal, and the National Emergency Medal.
Following Allan's passing the Upwey CFA station flew the Australian flag at half-mast all week in remembrance of the professor, the master of hose repair, a quiet achiever and a patient teacher to all the new members who came through Upwey's doors in his 41 years there.
Allan passed away early on 5 August.