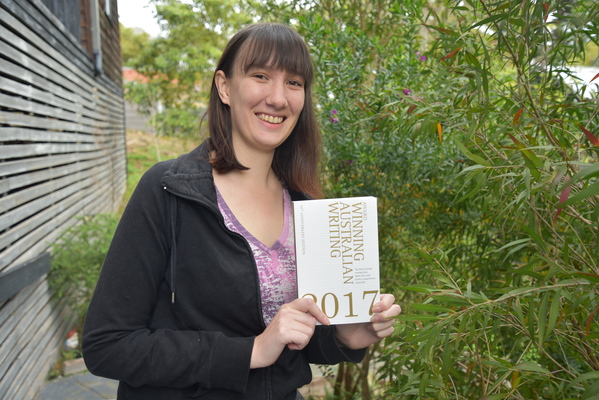 By Wendy Williamson
A young writer from Ferntree Gully is celebrating success, with one of her stories published in the 10th anniversary edition of Award Winning Australian Writing.
Last year 27-year-old Katelin Farnsworth won Editor's Choice Award for her short story, 'Bunny Rabbits,' published in the literary magazine 'Verandah.' Her win made her story eligible for consideration in the 2017 volume of award-winning writing.
Then last month, when she was on a camping holiday in Queensland, Katelin heard that she was a winner. 'Bunny Rabbits' was accepted into Award Winning Australian Writing 2017.
"It's very exciting," she said. "It's so nice to have that recognition. The book gets a lot of exposure in the literary world, so it's great to have my story included."
Katelin likes writing about relationships, specifically themes of grief and loss.
This is not the first time she has found success with her writing. Her short story, 'Round,' won the Rachel Funari Prize for Fiction and went on to be accepted into the 2015 volume of Award Winning Australian Writing.
Katelin has also won awards for her poetry and she has just heard that she has won Verandah's Genre Award. Her work has been published in literary journals including Tincture Journal, Offset, Lip Magazine and The Victorian Writer.
"I have always wanted to be a writer," said Katelin, who is currently studying for a degree in Professional and Creative Writing at Deakin University and edits a number of literary journals.
She hopes to work in publishing one day, and to find success with a novel. She has just finished her first novel and is looking for a publisher. Now she is working on her second. It is set in the Dandenong Ranges, which Katelin has always called home, and Katelin hopes to finish the first draft by the end of the year.
Award Winning Australian Writing is published by Melbourne Books and is available at all good bookshops, where one day perhaps you will be able to find a novel by Katelin Farnsworth of Ferntree Gully.