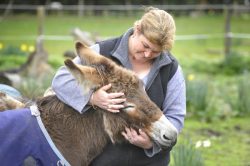 By Derek Schlennstedt
A donkey owner in Wandin North has been left reeling after receiving the news that a baby donkey from her paddock may have been taken hours after birth and dumped over four kilometres away.
On 25 August a mutilated baby donkey was found with one of its legs torn off and part of its torso missing at Glenbrae Equestrian Centre.
The foal was found by caretaker Vinny Hungerford on the furthest paddock from the road around 5.30pm, and Vinny said the foal had clearly just been born, as it was yet to be affected by rigor mortis.
Police believe it may have been an animal attack, but Haydi Kubrak said her donkey May was due to give birth that month and that it may have been taken from her property in Wandin North and dumped at Glenbrae.
Haydi currently owns 10 donkeys and runs Shanessy Grove Irish Donkeys and Ponies For Hire.
She said that when she heard a dead foal had been found, she did not realise it was May's foal.
"I received a message on the day that a baby donkey had been found at Glenbrae on 25 August but I didn't put two and two together because my donkey had shown no signs of having her baby that day," she said.
Haydi returned home from work on the day the foal was found and said her donkey, May, was giving off milk, a sign that correlated to her having given birth.
Following a vet check, it was confirmed that May had indeed produced an offspring.
"We did an internal and there was no baby inside, then my Jack Russell came running up with an afterbirth in its mouth," Haydi said.
"The way she was acting was completely unlike a mother that had lost her baby, because she wasn't grieving she was just looking for her baby."
Since then Haydi has been trying to find out the circumstances that led to the foal's disappearance and said witnesses had come forward to tell her that a black 4WD, similar to a Ford Territory, with the number plate TC2, was seen parked on her nature strip a few hours before the donkey at Glenbrae was found.
Haydi's donkeys are well-known in her neighbourhood and many come to see the donkeys, including children from Interchange who regularly find solace and comfort in patting the friendly animals.
Since seeing the disturbing photos of the foal, Haydi has been unable to sleep or eat and feels for May who has been longingly searching for her baby and said she had since had to take extra precautions so people were unable to pat them by the fenceline.
"I'm shattered, absolutely heartbroken, I've cried for a week, had a headache, I don't eat, I don't sleep."
"People don't understand this is my job, my life, I rescue donkeys from bad situations."
"May has been really off her food, she's really depressed, she just keeps looking, there's no grieving … she hasn't been allowed to grieve, yet it's just an endless look," Haydi said.
While a herd of donkeys is located behind Glenbrae, Ms Kubrak said she had contacted the owners and received confirmation that the foal was not one of theirs.
Lilydale Police believe the donkey was attacked by an animal, but Haydi said would be unlikely for an animal was able to kill the foal and drag it to Glenbrae, which is over three kilometres away.
Haydi said the 4WD was seen on 25 August at 2pm and the foal was then found at 5.30pm the same day.
Anyone with information is urged to contact Lilydale Police on 9729 2300 or Crime Stoppers on 1800 333 000.