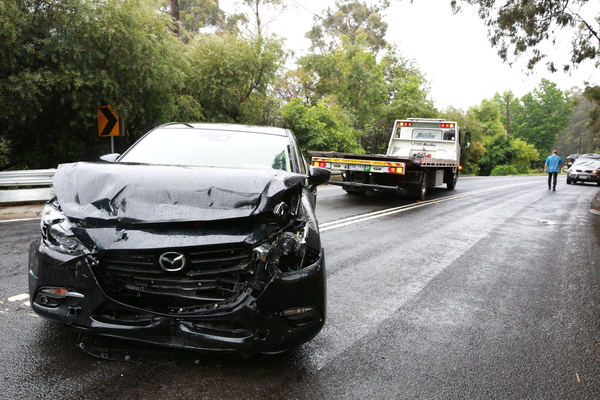 By Peter Douglas
While it wasn't the rainfall of epic proportions as predicted, the Yarra Ranges region did experience a significant deluge, resulting in disruption to services and events.
Over the predicted high danger period, from Friday 1 December through to 3 Sunday December, a combined 144.8mm of rain was recorded at the Ferny Creek weather station, according to the Bureau of Meteorology.
This three-day rainfall figure eclipsed the 2017 average monthly rainfall at the station of 116.31mm.
The highest daily rainfall figure was also recorded for 2017, with 89.6mm lashing the region on the Sunday, more than the 55.2mm recorded on 6 February this year.
Last November, just 87.4mm rain fell on the region, less than Sunday's figure.
The Bureau of Meteorology issued a severe weather warning and flood watch for most parts of Victoria on Friday 1 December, warning of flash flooding, disruptions to main traffic routes, inundations of building and impacts to basic services such as public transport, sewerage, and power and water supplies.
Emerald SES Unit Controller, Ben Owen, said the region had heeded the warnings and prepared themselves well, taking advantage of sandbag collection points at Clematis Hall and at Lilydale.
Though, Mr Owen said it was a typically busy time for the unit, with over 100 calls for assistance.
"We had many call-outs where trees were down over houses or had caused disruptions to traffic," he said.
"Two of our volunteers headed out to help at Euroa, staying there over the weekend. But there were call-outs most nights here."
Among those calls for assistance included to a tree on a car port in Kallista and a tree on a house in Menzies Creek.
In addition, there were many call-outs to trees on roads, including along Avon Road, Cockatoo, with the road closed for several hours.
Mr Owen said, much like bushfire warnings, it was important for residents to remain vigilant and don't become complacent, despite the impact being less than predicted.
On Sunday, Victorian Premier Daniel Andrews was forced to defend emergency warnings as he visited what was meant to be the flood's epicentre, in North East Victoria.
Mr Andrews told other media the Bureau of Meteorology could only use the data they had available, but implied they could be working on their phrasing.
"We can look back on whether some comments were words I would have used, but ultimately the bureau and emergency services, myself included, we've been very clear with the Victorian community," he said.
"The total of rainfall was absolutely accurate – the intensity of it was different and the exact location of it was a bit different, that's something we all should be happy about."
Yarra Ranges Tourism noted many events were cancelled over the weekend, which, it said, would impact on local operators.
Meanwhile, Monbulk MP and Emergency Services Minister, James Merlino, cancelled an appointment on Friday to help spread the message about the potential impact.
"It's going to be a challenging three days for our emergency services, with severe weather predicted across the state with risk of flash flooding and riverine flooding, he said.
"Everyone should carefully plan their activities today and into the weekend. Postpone non-essential travel on roads as flooding may occur."
Yarra Ranges Council chief executive officer, Glenn Patterson, had also encouraged residents to heed the warnings issued and steer clear of floodwaters.
Council said residents whose houses suffered major structural damage should contact their insurer and the relevant council.
Council added if the house had suffered major damage, council would complete a building assessment and provide advice on whether the house is habitable.