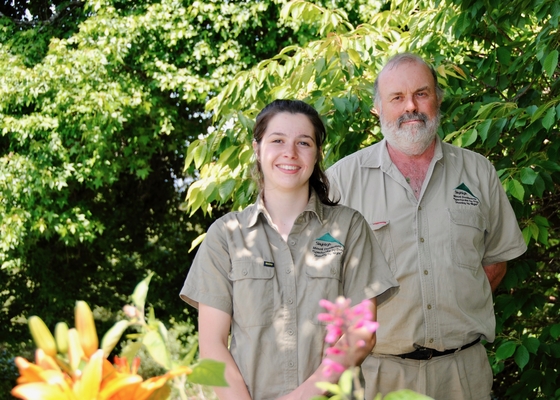 By Derek Schlennstedt
Second year horticulture apprentice Ellana Rohde was awarded a prize of $1000 by The PAVE Horticulture Department, at Swinburne University, in recognition of her outstanding achievements and contributions with her studies over the past year.
The 22-year-old has been working full time as an apprentice gardener under head gardener Tim Shannon at SkyHigh Mount Dandenong, for over two years.
Ellana said she loved the diversity of working on such large grounds that offered her a broad canvas to work with.
"Every day is different up here," she explained, pointing to the English Garden, hedging, flowerbeds and veggie garden that service SkyHigh's bistro.
"We are a small team, there are only the two of us, which means that every day at work is different and I love the variety."
"I got to help build the veggie garden from scratch and see it evolve over the years."
Prior to taking the job in 2015, Ellana had no previous horticulture experience.
Though when she saw the position of gardening apprentice advertised at SkyHigh, she immediately applied for the position and said she felt incredibly lucky that she was given the opportunity to learn alongside Tim and be involved in SkyHigh's garden.
"Tim is a great mentor for me to learn from – he is so knowledgeable, and I'm learning so much on the job, it really complements my studies," she said.
Ellana will receive her award at the Swinburne Supporting Women in Horticulture Prize Ceremony on Thursday 14 December at the Swinburne Wantirna campus.
The award recognises Ellana's achievements and efforts with her studies, and the prize money will assist Ellana with her study costs for 2018.
She has just completed the second year of her one-day a week course at Swinburne and said she was delighted to be awarded the prize.