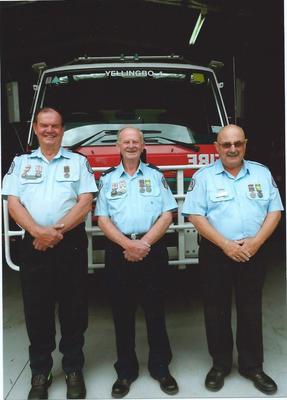 By Kath Gannaway
Yellingbo CFA volunteers Bruce Logan, Neville Sargeant, Gary Nixon, John Christie, Cliff Williams and Sue Williams between them have hundreds of years of service to the CFA.
It's a remarkable achievement as a brigade, and an even more remarkable achievement when you look at the individual contributions which were acknowledged with the presentation recently of the National Medal at the brigade's Annual presentation Night.
The National Medal is Australia's most awarded civilian medal, recognising diligent long service to the community in hazardous circumstances, including in times of emergency and national disaster, in direct protection of life and property.
The individual contributions of the six members included exceptional performance on and off the fire front.
In addition to many years of active fire-fighting in some of the region, state and interstate's most significant fires the recipients have served their brigades and CFA in a variety of official roles at brigade and region.
Don Tomkins Acting Operations Officer for District 13 and CFA Board Member Hazel Clothier presented awards on the night and commended the recipients for their service and their commitment.
"These members bring lot of experience and knowledge of the local area as well as their skill sets into the organisation, and they pass those skills on to other members," Mr Tomkins said.
"These medals are acknowledgement of their dedication to the CFA but also acknowledgement of their families and partners who enable these members to partake in the organisation, having to leave their families at times, and sometimes for days on end, to help others in times of need.
The medals are recognition of their commitment to this organisation, but more importantly, to their community," he said
National Medal Clasp recipients were Bruce Logan, Neville Sargeant and Sue Williams. John Christie, Cliff Williams and Gary Nixon received the National Medal. Service Medals were presented to Andrew George (15 years) and Anthony Straub and Ryan Sargeant (10 years). Jonah Moffatt and Lindsay McKenzie received Service Certificates (5 years).