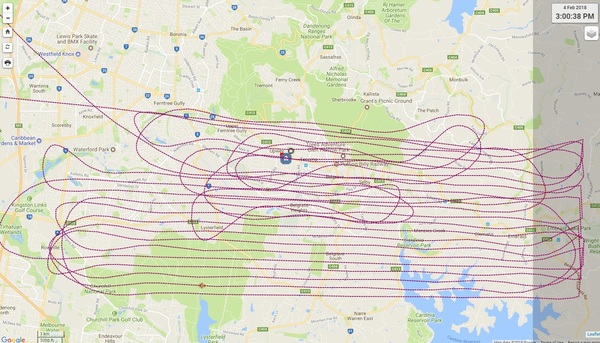 By Derek Schlennstedt
Hills residents were watching the skies on Sunday, 4 February, as a small plane repeatedly passed over many suburbs in the Dandenong Ranges.
Residents quickly took to the airwaves reporting the curious plane to 3AW Breakfast Radio.
Kate Stevenson rang in and said some of her friends in Upwey thought the light plane seemingly flew continuously up and back over their property all afternoon.
The Mail has since searched the plane's flight path using an online radar mapping system which has revealed that the plane has travelled across an area roughly 30 kilometres in length more than 15 times on the sunny Sunday afternoon, frustrating many members of the community, who were enjoying the sunshine.
"Moron … practicing how to fly over our homes … go out over the fields.' said one man on the Facebook Upwey Surrounds Noticeboard.
The planes flight path shows that is had travelled across from Rowville to Emerald, passing over suburbs including Ferntree Gully, Belgrave, Menzies Creek and Emerald and gone back and forth for around two hours before returning to Lilydale Airport.
Though suggestions on noticeboards have ranged from trainee pilots practicing, to even crop dusting, the Mail has confirmed with Lilydale Airport that the Cessna 210 light plane was actually being used by a private firm for survey works.
Neroli Merridew, owner and operator at Yarra Valley Aviation, said the plane was being used for aerial surveys and that the Dandenong Ranges had been the area they were working in on Sunday.
"It was a plane from Lilydale – a Cessna 210 and it does aerial survey work for a firm, they check power lines and things like that," said Ms Merridew.
"That was the area they were working in … they have to fly up and down in that pattern."
The plane has since been seen doing similar laps on Monday around the Boronia and Ringwood area.