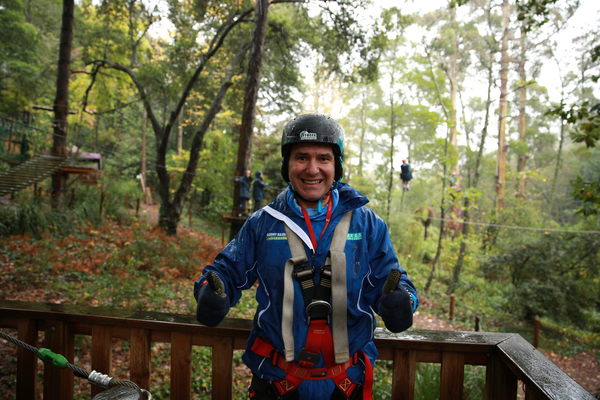 By Derek Schlennstedt
Belgrave's Trees Adventure has become a training base for a bold bid to tackle Mt Everest.
Bobby Barjam, 51, is no ordinary adventure seeker, rather, he he is trying to achieve a goal he set 38 years ago after being diagnosed with Multiple Sclerosis.
Even though Bobby lives in near constant pain – not that you would ever know – he is intent on pushing his body to the limit, in order to inspire others.
Bobby said he was focused entirely on achieving this goal.
"When I was 13, I was diagnosed with MS, I was in the St Mary's ward St Vincent's Hospital … I was, and am, the youngest person in Australia to be diagnosed with Multiple Sclerosis," Bobby said.
"At that time, my legs weren't working and my eyes went haywire on me, but I said to myself one day I'm going to climb to the top of the world and see the blue sky … 38 years later I'm doing it."
Bound to a wheelchair, and partially blind at times, many might resign themselves to a quieter life.
Bobby is not that person.
Rather, his story is that of an ordinary man with an extraordinary outlook on life – to never give up hope.
"What I try to say to people is everybody has their own Everest's … whether it's running a marathon or losing weight, and that's the whole point to why I'm doing it; I'm doing it to raise millions for people with MS and to say have a go and do your best," he said.
"It's very important for me to make an example of my disability and disadvantage and show that it doesn't stop me from doing things … you can do whatever you want to do if you put your mind to it."
Bobby has certainly put his mind and body to the test and these days he has the fitness of an elite athlete.
That fitness is thanks to a brutal training regime, which sees him climbing the 1000 Steps 15 times in one go, or training 4-5 times a week at Fitness First and at the Trees Adventure – Glen Harrow Park in Belgrave.
He said that training at Trees Adventure – Glen Harrow Park reflects the balance and strength required for the terrain of Everest.
"It's very similar to climbing in the Himalayas … all the courses at Trees Adventure really help with my balance, and the climbing wall helps with my strength and climbing techniques," he said.
Having already climbed Mount Kaala Patthar.and Mera Peak – two of the highest mountains in the world – Bobby is acutely aware of the risk and the risk of a relapse.
"These relapses are extremely painful and can vary from "from not being able to walk, to not being able to see, to half of my body being paralysed," Bobby said.
When asked about his secret to dealing with the pain, his response was laughter.
"I don't take any medication; I just lock it in the back of my brain, and carry on with a smile."
Bobby will attempt the trek to the top of Mt Everest on 10 April, 2019.
In support of Bobby and his epic quest, Trees Adventure – Glen Harrow Park in Belgrave is holding a fundraiser and will be donating $15 from each ticket sold on 19 May, towards Bobby's Everest mission.
Tickets can be purchased at: http://www.treesadventure.com.au or alternatively you can donate directly to Bobby's GoFundMe page at: https://www.gofundme.com/bobbybajram
To find out more about Bobby's journey, visit http://bobbybajram.com