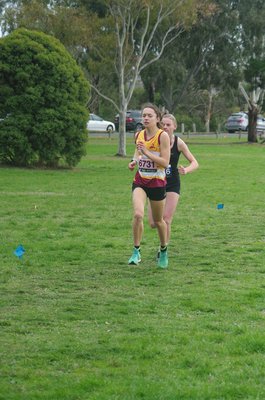 By Jamie Strudley
Last week was a big week of cross country championships for Yarra Ranges Athletics athletes.
Victorian All Schools Cross Country Championships, Victorian Open Cross Country Cahmpioships and LAVIC Eastern Region Cross Country Championships kept everyone busy.
Congratulations to all athletes who competed and to those who meddalled or bettered their expectations.
Special mention to the six club athletes – Harry Norman, Lily Peacock, Georgia Laven, Maddie Laven, Kiara Flavel and Indigo Linde – who were selected to represent Victoria at the Australian Cross Country Championships iN Maleny, Queensland, in August.
Results from Vic All Schools Cross Country Championships:
Under 14 Girls 3km Madeline Laven 2nd 10.51, Kiara Flavel 4th 10.57, Indigo Linde 6th 11.03, Piper Naismith 45th 12.35, Ashleigh Rooke 78th 13.18. Under 15 Boys 4km Angus Norman 26th 14.09. Under 15 Girls 4km Mia Strudley 15th 15.22. Under 17 Boys 6km Harrison Van Duuren 18th 20.56, Camden Hewitson 55th 23.31, Liam Russell 86th 25.51. Under 17 Girls 4km Georgia Laven 2nd 14.00, Zoe Sibley 17th 15.34. Under 18 Boys 6km Harry Norman 5th 19.16. Under 18 Girl 4km Lily Peacock 3rd 14.03, Grace Muller 11th 14.55. Under 20 Men 8km Max Savill-Bentley 23rd 30.14
On Saturday 30 June, cross country will be the club handicap at Margaret Lewis Reserve, Coldstream.
The club welcomes all athletes of any age or ability.