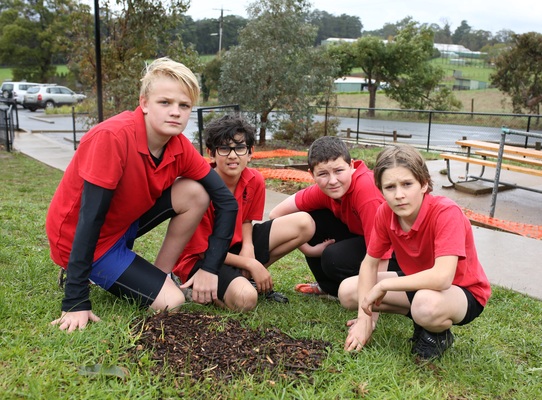 By Derek Schlennstedt
Wandin Yallock Primary School students and staff have been left upset over the removal of many of its plants, which were ripped out and taken over the Queen's Birthday long weekend.
Since the start of the school year, Grade 6 students at the school had made an effort to plany many trees so they could leave a positive legacy for others to enjoy and follow.
As many as 100 plants had been part of the project, which had been planted throughout the grounds.
Now, the removal has angered many and the school has put out a plea for anyone who may have seen anything suspicious to contact Lilydale Police on (03) 9739 2300.
Teacher aid Katherine Byatt said the students were devastated to find out that many of the plants had been ripped out during the long weekend.
"The boys have been working on this for quite some time … in summer they started digging when it was like concrete, so it took them ages to dig the holes," she said.
"We were given around 100 plants from Kuranga native nursery and two of them were really special gum trees that were specially grafted … they are the ones which are most noticeably missing."
Ms Byatt said that, because the students were leaving next year, the plants and garden area had profound meaning to the students, who could have returned in later years and seen their growth.
"Because they are all heading off to secondary school next year, this could have been something they could leave and revisit later," she said."They're calling it the peaceful garden and planned to build up a hedge, have a sitting area where they could read or talk … this would have been their legacy."
The two grafted gum trees, some large box hedge plants and some smaller box hedge plants were all dug up and taken.
Oliver, a Grade 6 student at the school, shared his disappointment.
"It's pretty sad … it would have been nice to have come back in a few years and see it," he said.
Anyone who may have seen any suspicious activity at Wandin Yallock Primary School over the Queens' Birthday long weekend (June 9-11) is urged to contact Lilydale Police on (03) 9739 2300.