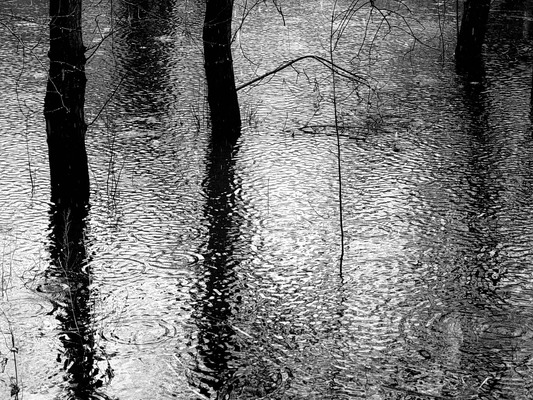 A Lilydale man says an under-capacity Melbourne Water drain is causing his property to flood.
Don Di Battista spoke about the issues on his 10 acre farm in The Gateway at the Tuesday 24 July Yarra Ranges Council meeting.
The council was debating Planning Scheme Amendment C149.
Melbourne Water requested the change to update flood overlay boundaries in the Yarra Ranges to reflect recent flood modelling they'd undertaken.
The Land Subject to Inundation Overlay (LSIO) and the Special Building Overlay (SBO) require a planning permit and consent from Melbourne Water for buildings and works undertaken.
This is to ensure that new development is protected from flooding and does not cause any significant rise in flood levels or affect surrounding properties.
Mr Di Battista's property is now subject to the LSIO overlay.
"This is a real problem," he said.
"Melbourne Water knows that there is no capacity in the drain.
"They've analysed it.
"The LSIO has been extended because there is no drain.
"Our property becomes the drain.
"I don't accept this."
Mr Di Battista asked councillors not to alter the LSIO until the drainage matter was resolved.
"The Lilydale drain has never been upgraded," he said.
Melbourne Water planner Michael Kearney has been working with the council on the amendment and spoke on the water authority's behalf.
He told the meeting that engineers had visited the area and "recorded maintenance issues with regard to the Lilydale main drain" as part of an investigation.
"We're already doing some work on that particular drain," he said.
Mr Kearney said the issue was "quite separate to the planning scheme amendment".
"This amendment is really looking to make sure any new work in these overlays is referred to Melbourne Water for our comments.
"The recommended investigation should proceed separately to the amendment, and not delay the amendment."
Yarra Ranges Council said the amendment made minor mapping changes to flood overlays and allowed regular farming activities in rural areas to continue permit-free.
The proposal received 29 submissions, including 20 objections.
The Planning Minister appointed an independent panel to consider the amendment and submissions at the council's request.
The panel recommended changes to the exhibited scheme, including mapping changes suggested by Melbourne Water in response to the submissions, and exemption of earthworks to allow routine farming activities to continue without permit requirements in rural areas, as part of the LSIO.