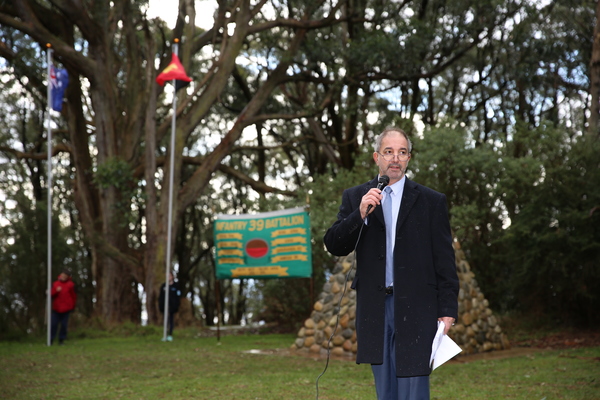 It has been 76 years since Australian forces fought a series of battles along the Kokoda trail to try and hold back advancing Japanese forces intent on taking Port Moresby.
The 39th Battalion, an Australian militia unit, played a significant role in delaying those Japanese forces.
On August 8 residents of the hills, Belgrave South Primary School Students, and members of the 39th Australian Infantry Battalion Association came together at One Tree Hill Picnic Ground to remember and commemorate those soldiers who made the ultimate sacrifice.
39th Australian Infantry Battalion Association member, Mr Alfred Mallia reminded those who gathered at the memorial about the importance of the battle that took place on 8 August 1942.
"We are here today to remember the battle that took place on 8 August and the forcing back of the Japanese troops," Mr Mallia said.
"Today is to honour the 22 soldiers that fought and died at Kokoda, on the Kokoda plateau."
In January 1942, the 39th battalion was used to defend an airfield, but by June as the military situation worsened, the battalion received orders to move up the Kokoda Track to act as a blocking force against Japanese troops.
A month later and approximately 80 soldiers of the 39th battalion and five members of the Papuan Infantry Battalion engaged the Japanese, north of Kokoda. Ill-equipped and under-resourced against the experienced and better-prepared Japanese forces, the 39th battalion Australian soldiers bravely fought to hold the enemy at bay but were forced to withdraw.
On the morning of 8 August the 39th battalion counter attacked and successfully retook the high village of Kokoda where it was held until 10 August.
During the service Mr Mallia and President of the 39th Battalion Association, Merren Stockdale explained that although the battle did not win the war, it did delay the Japanese long enough for reinforcements to arrive.
"The Japanese first tried to get into Port Moresby by sea but couldn't, so they went around the top and to Boona and thought they'd walk across within three-four days," Mr Mallia said.
"The 39th stopped them and while this battle didn't win the war it slowed the Japanese long enough for reinforcements to arrive."
"In hindsight it was really the turning point," Ms Stockdale said.
"From 21 July to 25 August it was only the 39th Battalion that were there defending the shores of Australia."
"There are only 19 veterans of the 39th Battalion left in Australia and we have promised them that we will not forget them and what they have done."