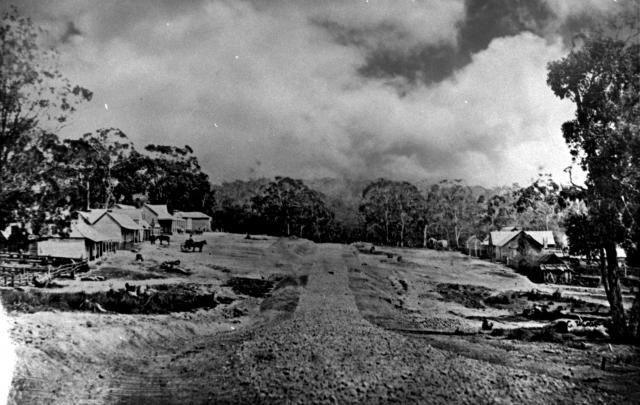 By Sue Thompson
Community and family historians lead interesting lives as they can readily escape the drama of the world around them and through their research travel back into the past.
Recently I was doing some research, and as often happens, one thing leads to another and then takes a turn to something totally unrelated – Lilydale in 1867.
In 1859 the township of Lilydale was laid out and the following year, the first land sales were held. The town's location was strategically important as it was the "main road" from Melbourne to the Upper Yarra goldfields and further east to Gippsland.
Wagons laden with goods travelled the rough, straight road now known as Whitehorse Road and Maroondah Highway going east.
This traffic soon attracted bushrangers.
One was an 18-year-old lad named William Parsons – dubbed a boy bushranger – who had moved from Sydney to Melbourne in 1867 and held up three wagon drivers in the Lillydale district and stole their money. He was finally captured when one of the drivers decided to take him on and Parsons was shot in the chin with his own gun and captured. He was charged with assault and robbery and appeared in the Melbourne Criminal Court before Justice Edmond Barry. Barry presided over the Eureka Stockade treason trials and was the judge who in 1880 sentenced Ned Kelly to death.
Before announcing his sentence Barry admonished the lad:
"It is almost incredible that you, with arms in your hands, should have stuck up three men. You could scarcely know how to use them; indeed you did wound yourself, and nearly blew your own brains out. It is almost incredible crimes like this should occur in our neighbourhood, and it would be laughable were it not lamentable."
Judge Barry referred to legislation allowing the flogging of criminals under 16 years old before saying:
"This is an instance in which I think it would be judicious to correct you in this manner; and though I have great reluctance to flog men, you have not yet got from under the correction of the rod, and it appears to me that it would have done you good if it had been administered earlier. It would have saved you from the disgraceful position you now stand in. I shall also recommend that you be sent to some reformatory."
Barry's sentence was Parsons be imprisoned for … "five years, and that you be privately whipped with a cat-o'-nine-tails twice, on the first Monday in the month of April and the first Monday in the month of September; that you receive on the back twenty-five strokes at each whipping."
Parson's reaction: "The prisoner appeared quite crest-fallen at the prospect of the floggings ordered for him."
Thankfully, sentences such as these have long disappeared, but as always history leaves more questions than answers: What happened to William Parsons? Did the punishment cure his criminal ways?
Contact details: Sue Thompson: 0475 219 884. Email: info@lilydalehistorical.com.au or go to lilydalehistorical.com.au