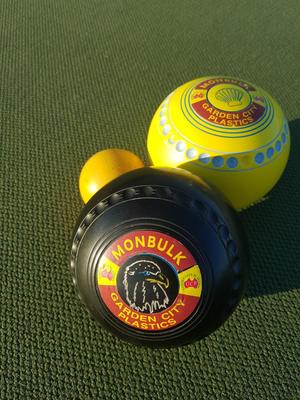 On Tuesday, Monbulk Bowling Club's top-of-the-ladder number one side played at home against the fifth-placed Upwey/Tecoma.
It was a tight contest from start to finish.
Eric Markham's rink was six shots all on the fifth end, then managed to build up a small lead and hang on to win by just two shots, 17 shots to 15.
Richard Cookson's team started slowly and managed to break level, eight shots all, by the ninth end.
The Monbulk team built a four-shot lead but then Upwey took back the lead by the 17th end.
It was then an exciting tussle, with the rink going into the final end at 18 shots all.
The last end had a lot of tension and Cookson proved once again that he could come up with the pressure bowls when needed.
Monbulk picked up one shot on that last end to win 19 shots to 18.
Andrew Bell's team didn't give up the lead all day, but it was after the lunch break that the team really stormed ahead, picking up several multiples and only dropping two ends in the back half.
Andrew also pulled off some spectacular conversions when the team needed him.
Monbulk won the rink with a massive 28 shots to 10.
Overall Monbulk won 64 shots to 43, winning all rinks – a strong win against a side that had been knocking on the door of a top-four position.
Monbulk 2 played at home against Donvale who was sitting bottom of the ladder.
All the Monbulk rinks led all day and had convincing wins.
Graeme Goller's team picked up several multiples and went on to win 28 shots to 13.
Peter Francis' team jumped at the start and built up 10 shots by the third end.
The team dropped a five on the eighth end then settled down to some steady bowling, building a winning score of 27 shots to 16.
Eric Furby's team's had a huge season so far and this match was no exception, building strong heads, securing several multiples and not dropping any clangers.
The team won 14 of the 21 ends and finished with an amazing win of 30 shots to nine.
Overall, Monbulk won 85 shots to 38, winning all rinks and to be in the top three on the ladder.
Monbulk 3 played away against Blackburn North, which were in a similar position on the ladder so it was expected to be a close contest.
Mike Harris' rink was close all day.
Scores were level at the halfway mark, then they snatched a couple of multiples and protected the losses to the minimum.
The team won 19 shots to 14.
Barry Adshead's rink was level at the halfway mark, then Blackburn took the lead.
Then Monbulk won 11 shots in five ends and hung on to win 20 shots to 16.
Don Barnetson's team led all day.
Monbulk had a couple of scares after dropping a four on the 15th end and a three on the 20th end to put Blackburn within two shots.
But on the last end, Monbulk rallied to pick up a three and won the game 24 shots to 19.
The overall win meant the team moved up to second position on the ladder and that each team had won all rinks completing a very successful day for the club.
Night Owls bowls is in full swing on Thursday nights.
The bowls start at 7.30 pm, with casual dress and flat soled shoes advised.
Bowls can be provided and single players or teams can be accommodated.
To take part, call 9756 6183, sign up in the foyer or just arrive at 7.15pm ready for action.