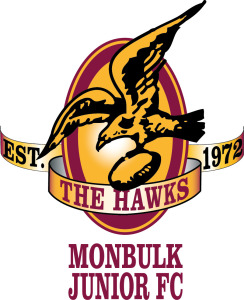 Monbulk Junior Football Club had another away round, playing Seville, Mount Evelyn and Healesville on another cracking day for junior football.
Under-9
Monbulk vs Seville
The Hawks came up against a very good Seville side.
Although they didn't play the best first quarter, the team came back to play three quality footy quarters to finish the match.
Best: T. Burke, H. Arnott, R. Sangster, M. Fraser, B. McConchie.
Under-10
Monbulk vs Seville
The side met Seville and, after a bit of a slow start, fired up with some nice marking and great kicking.
Best: Z. Koelewyn, J. Thorp, J. Butler, S. Embleton, K. Wrigley, J. Heap.
Under-11
Monbulk 21 d Seville 5
The side had a great result.
The players worked hard down back and were able to move the ball the way they wanted to kick a winning score.
Some hard contesting work over the past few weeks paid off for the team.
Best: B. Pratt, I. Mullinder, B. Hennig, B. Nicholson, M. Koelewyn, C. Seamer.
Under-12
Mount Evelyn 7.8.50 d Monbulk 1.2.8
Once again the side brought great effort and intensity to four quarters against one of the best teams in the league.
There are definite signs of improvement from all of the players and in team play.
Keeping the opposition to seven goals for the match was a strong defensive effort.
Best: Tim, Brock, Etienne, Jarrah, Josh, James.
Under-14
Monbulk 4.6.30 d Mount Evelyn 3.6.25
Finally all of the side's effort has paid off.
When players train hard and put in the effort the results will come their way.
Best: Tahi, Jonah, Lachie S, Jamo, Logan, Thys.
Under-14 girls
Monbulk 16.6.102 d Healesville 0.2.2
This is the side's second game against Healesville and the coach said they couldn't ask for any more than the team efforts given by each player.
"Our continued growth in understanding pressure and movement to get the footy first was heart-warming," they said.
"These girls play footy for each other and for team results.
"And even when given the opportunity to play in different roles, each player stood up and gave it their all."
Best: Georgia, Lily, Indi, Ruby D-T, Renee, Jasmin.
Under-16
Mount Evelyn 6.8.44 d Monbulk 3.9.27
This was a tough contest for the boys.
The defence was under a lot of pressure and stood up well.
They all continued to work hard but poor finish at goal left the group a little short at the end of the game.
Best: A. Green, G. Ross, T. Ford, B. Hughson, C. Passingham, L. Frankson.