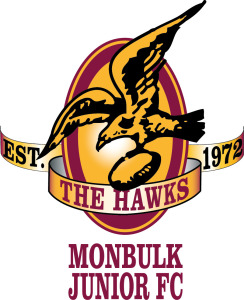 All Monbulk Junior Football Club teams travelled away this round, the start of the second half of the season.
The teams are improving – but so are their opposition.
Four consistent quarters of football and teamwork are needed for the rest of the footy year.
Under-9
Monbulk vs Yarra Glen
It was a slow start to the match up against a tall Yarra Glen side.
The team took instructions and evened out the contest by the end.
Best: L. McConchie, H. Comfort, H. Arnott, M. Fraser, B. McConchie.
Under-10
Monbulk vs Wandin
Strong tough opposition tested the side's defence.
The Hawks kicked no goals in the first three quarters but were very competitive in the last quarter.
Best: A. Gray, Z. Koelewyn, R. Koelewyn, A. Sprout, W. Heap, N. Brown.
Under-11
Wandin 4.3.27 d Monbulk 3.2.20
This was a fantastic contest.
The Hawks came with good effort and a desire to win the ball and win contests.
They are continuing to improve in the areas they have been working on, which looks promising for the remainder of the year.
Best: R. English, K. Dockery, L. Hughes, M. Koelewyn, I. Mullinder, J. Fraser.
Under-12
Healesville 8.9.57 d Monbulk 0.5.5
The Hawks competed really strongly for four quarters, unfortunately for little reward.
The side saw an improvement in ball movement, team play and the pressure on the opposition was good.
In the last quarter they kicked three points to their opponent's one.
Best: E. GrierSmith-Rowe, T. Watson, O. Blandthorn, J. Smith, T. Cresp, J. Munro.
Under-14
Monbulk 6.13.49 d Yarra Glen 4.8.32
The team got rewarded for its efforts.
The players listened, spread, ran, tackled and did all they were asked to do.
Best: J. Bateson, K. Gates, H. McConchie, J. Koelewyn, N. Rutherford, L. Smith.
Under-14 girls
Monbulk 84 d Jetstream 15
This was the first time the Hawkettes played Jetstream.
So far, the girls remain focused on instruction and play their role on field to make the difference.
The team displayed consistent first efforts and relentless pressure with the result being a positive reward for them all.
Best: M. Laven, C. Bakker, H. Koolstra, R. Ross, M. Harper, C. Utting.
Under-16
Monbulk 19.15.129 d Seville 1.0.6
After a learning week on the training track the boys put it into practise.
They showed great ball movement and worked together for four quarters.
Best: B. Smith, A.Green, H. Fleming, P. Blandthorn, C. Passingham.