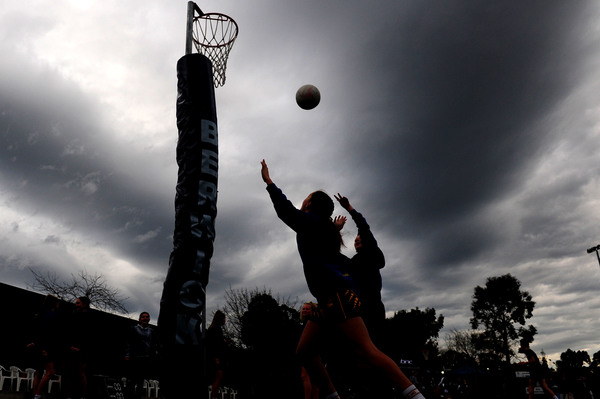 Round 10 of Premier Division Outer East Netball was played on Saturday 29 June in very wet and wild conditions.
In 17 and under, the Olinda Ferny Creek girls travelled to Robinson Reserve in Doveton and pulled off a huge upset by defeating the fifth-placed Doveton by three goals.
It was by far the side's best performance of the year and will give the girls renewed confidence for the remainder of the season.
Open age netball was at Kalora Park in Narre Warren North, where Olinda Ferny Creek took on Narre Warren.
D-grade also saw an unexpected win by the Bloods.
When the two sides met in round one, Narre Warren had a comfortable 18-goal victory, but this time around it was Olinda Ferny Creek by two goals to reclaim fifth spot on the ladder.
C-grade was not as fortunate, coming up against a very strong and disciplined Narre Warren side.
While never giving in, the Olinda Ferny Creek girls were just outclassed by the Magpies, with Narre Warren victorious by 20 goals.
B-grade was played in the worst conditions of the day, with torrential rain falling throughout.
This Olinda Ferny Creek side has risen to a new level this season and deserves to be holding the top spot on the ladder.
With strong performances right across the court the girls ran out 14-goal winners.
Conditions improved slightly for the A-grade match and again it was Olinda Ferny Creek victorious over Narre Warren, this time by 26 goals.
The A-grade girls also hold top spot on the ladder.
Olinda Ferny Creek will host Upwey Tecoma at Olinda Recreation Reserve on Saturday 6 June with the first game at 11.25am.
On Monday 15 July, Olinda Ferny Creek will play in a unique charity match against Victorian Netball League club Ariels at the Maroondah Nets complex at HE Parker Reserve in Heathmont.
This match-up will raise awareness and much needed funds to fight multiple sclerosis, or MS.
Club captain Ashlee Hottes, was diagnosed with MS in 2016 but it has never slowed her down as she played pivotal roles in the club's A-grade back-to-back premierships in 2017 and 2018.
The action kicks off at 7pm with Olinda Ferny Creek's B-grade taking on the Ariels' development side followed by the main event, Olinda Ferny Creek's A-grade against the Ariels' championship side.
A $5 donation at the venue will all go to the Kiss Goodbye to MS campaign.