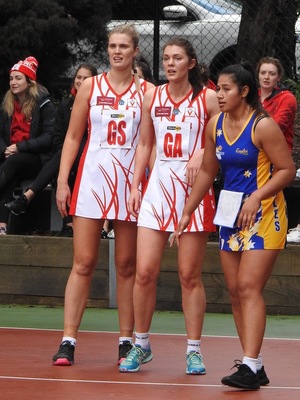 The enticing preliminary final match-up between two of the competitions top sides didn't fail to disappoint on Saturday afternoon.
In a game that featured its fair share of ups and downs, it was Cranbourne that came from behind to steal a 34-29 win over Beaconsfield and as a result, seal itself a grand final spot.
The contest kicked off with both sides battling for the lead until a wave of late goals saw Beaconsfield gain the upper hand at the end of the first quarter.
But a continual fight from Cranbourne meant things were all squared up by half-time with 16 goals scored each.
During the third term, Beaconsfield once again took the leaned and the side then retained it until the dying stages of the final quarter.
But in the end, it was Cranbourne ﹘ inspired by the likes of league best and fairest Tara Cecil and shooter Alanah Hardy ﹘ that displayed remarkable resilience to come from behind and win its way into the grand final.
The Eagles will now face a massive task in displacing hot favourites Olinda Ferny Creek to take premiership glory.
The two sides have faced off twice this season with the Bloods winning by over 19 goals on both occasions.
The Eagles will have to bring their absolute best to dismantle an opposition that has dominated the competition for the entire year.
The matchup of the day will likely be between goal shooter Peri Stewart and defender Tara Cecil.
With Peri dominating the shooting statistics for the season and Tara awarded the league best and fairest, either of the two could heavily influence the final result.
Meanwhile, the Eagles will look to prevent any supply towards Peri and her sister Elly in the goal ring by claiming the midcourt battle.
The grand final will take place this Friday 27 September at Pakenham ﹘ Toomac Reserve.