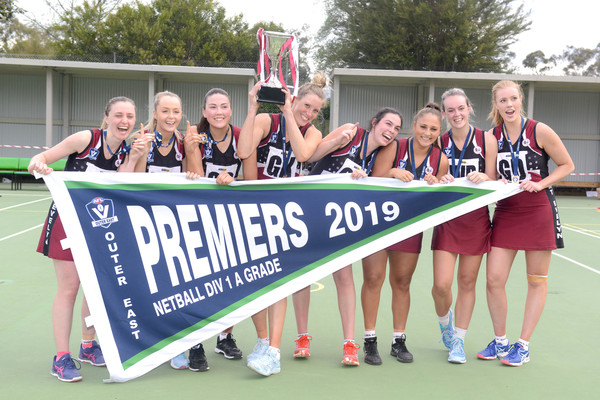 It's been a long time coming, but Mount Evelyn Football Netball Club's Kaitlyn Black has overcome years of adversity to finally reach one of the pinnacles of netball.
The club's head netball coach and A Grade superstar recently signed with Collingwood Magpies' extended squad for this year's Suncorp Super Netball (SSN) season.
Upon hearing the news, the 29-year-old defender admitted it was a "complete surprise."
"I had been training with them (Collingwood) for the months prior and with Covid everything got put on hold," Kaitlyn explained.
"When we learnt the hub was happening they all had to pack up and leave I thought that was it.
"They had been in Queensland for a couple of days and I got a very late phone call saying 'is there any chance you could fly to Brisbane in the next 24 hours?'
"It's a long time to be away from home and no one makes their debut to professional sport in their 30s and I turn 30 at the end of the year…But I can't let fear hold me back."
Kaitlyn's pathway to becoming a Magpie has come with its fair share of ups and downs.
In the lead-up to making the Victorian Fury side two years ago, she had multiple knee surgeries, hip surgeries, cortisone injections, subluxed shoulders and snapped achilles.
During that same year, she said surgeons, sports doctors and physios said her body couldn't cope with netball anymore.
"I was told I was too old, I had peaked, and netball wasn't for me," Kaitlyn said.
But the numerous hurdles never deterred Kaitlyn as she continued to push herself and improve her game well into her late 20s.
Not only has Kaitlyn changed her own fortunes, but she has also been instrumental in helping grow netball at Mount Evelyn.
Mount Evelyn Football Netball Club vice president and netball coordinator Sue Hardy said she had "so much admiration" for Kaitlyn.
Sue said since the defender took over as head coach, netball has improved to the point where they had all teams make finals last year and the A Grade side were premiers.
"She's done so well, it was a big turnover of players when she came to the club so she was basically rebuilding from scratch," Sue said.
"The girls, they just hang off every word she says, they have so much respect for her.
"She throws her all into it, she lives and breathes for the girls she would do anything for them… she's not just their mentor, she's their friend."
Kaitlyn will now wait out a period of quarantine in Queensland before she can join her Collingwood teammates on 10 August.
As an extended squad member, she will have the chance to line up against some of the world's best netball players in SSN.
"It's a bit surreal when I was thinking about whether I would say yes, my fiancé said this is the strongest competition in the world," Kaitlyn said.
"It's the best of the best."
Kaitlyn will also play alongside some of the world's best, including former Australian Diamonds' midcourters and sisters Madi and Kelsey Browne and arguably the world's best defender in Geva Mentor.
"You get completely overwhelmed and awestruck when standing next to her (Mentor) at training," Kaitlyn said.
"But she makes you better because she covers you so much, you just have to get past the novelty of it.
"The way they go about it and their mindset is the best thing, just the pure focus and concentration from the get-go."
Kaitlyn has over 15 years of Victorian Netball League experience and she has also spent time with the Victorian Fury.
She will be available to play SSN in Round 3, when Collingwood takes on the Queensland Firebirds on 11 August.