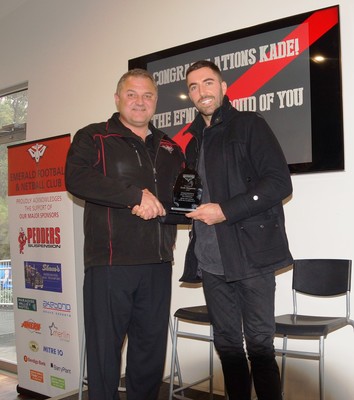 Two words immediately spring to mind when thinking of Emerald favourite son Kade Simpson: loyalty and courage.
Over 342 games at AFL level with Carlton, Simpson stuck true to the navy blue, even under some of the most trying of circumstances.
The inspirational 36-year-old finished his career with a 36 per cent winning percentage, so it was certainly not all roses from a team perspective.
But while some players look elsewhere to chase premiership glory, Simpson opted to leave a lasting legacy at Carlton – paving the way for a new generation of young stars, such as Patrick Cripps, Sam Docherty and Sam Walsh, who spoke glowingly about his impact on the group last week.
"I was exactly the same as what they were," Simpson said.
"I sort of just looked and took it all in on what the older guys did and tried to model myself on how they prepared and how they went about their footy, and how they trained.
"It's really nice to hear that I've had that effect on guys and guys really look up to me.
"You don't really speak about it too often, but I was pretty overwhelmed to hear guys say that."
Simpson became just the fifth player in Carlton history to reach the 300-game milestone.
It is an illustrious 300 club, consisting of club champions Craig Bradley, Bruce Doull, John Nicholls and Stephen Silvagni.
'Simmo' is one of only two players from the AFL Yarra Ranges competition to play 300 games at the top level, with the other being Yarra Junction and Richmond legend Jack Dyer.
Simpson's longevity is somewhat surprising, considering he played just three games in his rookie season and three games in a second season cut short by a broken hand.
In Round 15, 2005, he became a permanent fixture in the Carlton side, avoiding injury and form dips to play an incredible 158 consecutive games, lasting until Round 12, 2012.
And, he did it with a reckless abandon.
Pound for pound, Simpson was one of the most courageous players in the AFL.
On a weekly basis, he would throw his slight frame under the high ball in front of a hulking forward to win back possession for his Blues.
It would send a shiver down the spine of supporters, who must have wondered after some collisions just how Simpson would get back to his feet.
The half-back flanker did it for his team and for the jumper that he loved.
"For the first few years I struggled to get out onto the park, so to eventually play 300-plus is pretty special and now I can sit back and enjoy that," Simpson said.
"Every time you pull on the navy blue jumper it's pretty special."
Simpson was an unassuming leader – not one to try and hog the spotlight.
Carlton's media manager joked that Simpson played 18 years and "did three interviews in that time".
Simpson was one to let his actions speak louder than words, winning a John Nicholls Medal for as Carlton's club best and fairest in 2013, representing Australia eight times in International Rules (including taking out the Jim Stynes Medal for the best Australian player in 2008), and vice-captaining the Blues for three seasons.
"I'm probably the only bloke happy to be retiring during Covid with less people around, less media and less attention," Simpson said.
"It's probably fitting that I can go out that way."
Simpson cherished the friendships he made along the way.
He said it was a highlight to be vice captain under "one of my best mates", Marc Murphy.
It all began when Simpson was identified by Carlton recruiter Shane O'Sullivan while playing for Emerald and the Eastern Ranges.
He was an O'Sullivan gem, landing at the Blues with pick 45 in the 2002 national draft.
Having got through his farewell speech to teammates and club staff without shedding a tear, Simpson almost became emotional when O'Sullivan reflected on his discovery of Simpson.
"I actually got through the speech and everything pretty well and then he started to talk and I started to choke up and I thought I was going to start bawling my eyes out," Simpson said.
"He's like a father figure to so many of these guys that he drafted, so it was pretty special he was able to make it."
Simpson's advice for young footballers is simple: "Enjoy the ride, take it as it comes, have fun with the people that you meet and it goes quick!"