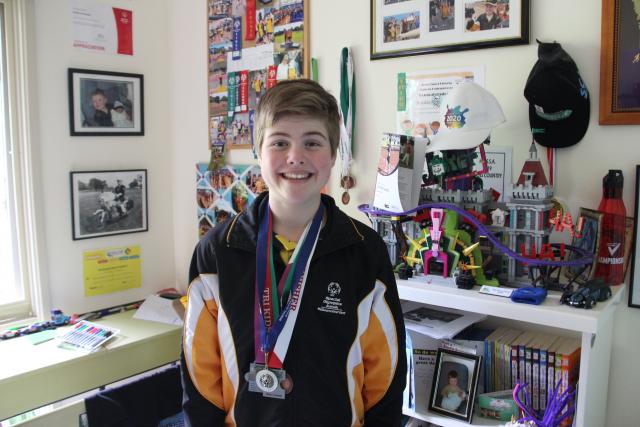 By Parker McKenzie
14-year-old Bradley McMeeken's motto is simple:
"The faster I run, the more fun I have."
Before finding his way to competing in triathlons, Bradley was struggling to lift his arm above his head. Today, he has completed four, competes in cross country at school and can swim butterfly.
His father Jayce said Bradley was born with a learning disability but was diagnosed with a rare form of cerebral palsy at age 10 by a doctor.
"He sent us to a guy named Michael Fahey at Monash, who's the leading guy in Australia for people with cerebral palsy that had had no visible brain injury at birth," Mr McMeeken said.
"Normally, cerebral palsy is caused by trauma at birth, the cord tied around the neck, something like that and it causes brain injury. So we did a brain scan and it came back clear.
"Brad was put into a global gene study, which found he's got a unique gene that didn't from my wife or me, found in people with cerebral palsy."
With the help of $3000 orthotics funded through the National Disability Insurance Scheme — which need to be replaced twice a year because he is still growing — Bradley overcame the tightness in his calves and ankles which made running difficult, discovering his love of exercise.
Mr McMeeken said it can be difficult to find activities and sports for young people with disabilities.
"We found Special Olympics, which was a good social thing. One of the kids there was doing triathlons," he said.
"You don't associate disability with triathlons, I was really scared. I thought is he going to drown in the ocean or something?"
Swimming turned out to be the perfect physical therapy for Bradley. With his regular swimming sessions in Ashburton, he learned different swimming styles and achieved 25 per cent more range of movement in his hamstrings.
Mr McMeeken said before this, Bradley was seeing a physio weekly.
"Now we see a physio once a month. We went back and saw the orthopaedic surgeon and he asked Bradley to run and ride, did a pelvic x-ray," he said.
"He did a deal with him, he said Bradley if you keep doing your fitness, you don't have to wear the supports five days a week."
Bradley is now competing in cross country against students from mainstream schools.
"Last year he finished 49th, this year he finished 35th in mainstream. Last year his time was 20 minutes, this year it was 13 minutes 40 seconds," Mr McMeeken said.
"He just did state games a few weeks ago at Casey fields and won a few medals."
Bradley has qualified for the National Games in Tasmania with 1080 other athletes, where he will compete as a part of Team Vic and represent his state.
For Mr McMeeken and his wife Carol, it will be one of the first times they've been away from Bradley for more than a few nights when he has left for school camps.
"Fitness has been so great for him socially, and obviously with the cerebral palsy, it has helped his body. It's been a long journey to get here," Mr McMeeken said.
"Four years ago, Brad couldn't ride a pedal bike. Now he rides a big bike with 24 gears. It's just so amazing, we are so proud of him. He's an absolute champion."
Bradley said he would keep working hard before the event.
"I would like to win gold." He said.
Bradley has found support from his triathlon club and Inclusive Sports Training, where they support him socially and physically to achieve his best.
Mr McMeeken said the local community gets behind Bradley too.
"In his first triathlon he was running with all ages, and he was heading towards the finish line. The man asked if Bradley would like him to run with him to the finish line," he said.
"I wish we knew who he was, but this random act of kindness to slow down, give up his time to run with Bradley, he has a way of bringing out the kindness in others."
Bradley is now raising funds to take him to the Special Olympics Australia National Games and continue his journey and progress.
If you'd like to support Bradley or read more about his sporting achievements, visit donate.nationalgames2022.com.au/fundraisers/bradleymcmeeken