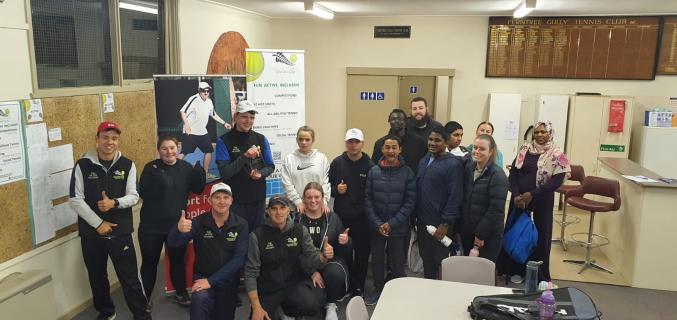 By Parker McKenzie
Ferntree Gully Tennis Club's All Abilities Program has won the Polytan Peter Norman Inclusion Award at the 2022 Victorian Sports Award.
The award was announced at an event at Melbourne Park on Wednesday 15 June.
The program was launched in May 2021 and offers a fun and inclusive space to encourage participants to learn to play tennis, make friends and integrate into a sports club.
Ferntree Gully Tennis Club president Peter Proctor hopes with the success of the program other clubs in Victoria will start similar programs.
"Other clubs in Victoria can use it as a model and hopefully it takes off elsewhere," he said.
"We've had some new participants come along as well and we have sustained it during the colder weather. It's going from strength to strength."
Participants in the program are given free equipment including T-shirts, a cap and access to a tennis racquet.
All-abilities program coach Mark Brodam told the Star Mail on 3 May it was great to give everyone the opportunity to play tennis.
"It doesn't matter what your ability is, as long as you can get out on a court and have some fun," he said.
"It's a really good program and something we can definitely build upon."
The award is named after Australian Track athlete Peter Norman, who wore a badge supporting human rights on the podium in solidarity with African-American athletes Tommie Smith and John Carlos, who raised their fists in a black power salute at the 1968 Olympics in Mexico City.
Mr Proctor said the awards night was a brilliant experience and well run.
"There's a lot of support from all those who helped get the program up and running."
The all-abilities program is supported by Tennis Vic, Vic Sport and Knox City Council.