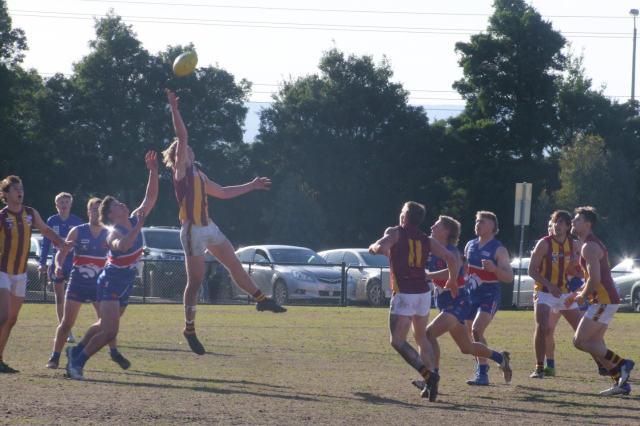 Monbulk travelled to Wandin for the first time since 2018 and were greeted by the impressive new pavilion at Clegg Road.
The blue sky and sunshine masked a cold wind which blew across the ground and played havoc with ball control.
A lengthy list of unavailable players gave Reserves captain, Matt James, the opportunity to make his Senior debut.
Matt, a third generation Monbulk player, had captained the Under 18s in 2012, but time away from football, and injuries, had meant that his first Senior appearance came at the age of 28 despite his undoubted tenacity and ability.
The Seniors had lost their previous two matches and were keen to stay in touch with the Top five as the finals are approaching.
Monbulk did not adjust as well to the crosswind and small ground as Wandin did, and found themselves six goals down by the long break.
Taking the game on in the third term resulted in some entertaining play, however, the Bulldogs found some avenues to goal in the final term to blow the margin out beyond ten goals in the end.
The Hawks can take a lot out of the match and face Upwey in a vital match this week.
Wandin 16.14.110 def Monbulk 6.10.46
Best: Joel Wensley, Benjamin Smith, Kai Linde, Pat Barge, Mitchell Dekker, Joshua Spencer
Goals: Glenn Strachan 2, Mackay Bateson 1, Taylor Joyce 1, Nicholas Wall 1, Joel Wensley 1
The Monbulk Reserves had only notched one win for the year to date, which had been against Wandin earlier in the year.
With the Under 19s having a bye the side was in a position to even name emergencies for the game, which was fortunate as a few were required on the day.
The Bulldogs eventually ground out a 27 point win, despite the Hawks applying pressure to the end and making them earn every scoring shot in a relatively low scoring game.
Wandin 4.13.37 def Monbulk 1.4.10
Best: Diarmid Mcclelland, Josh Rak, William Henderson, Riley Finlay, Aaron Smith, Patrick Snoxell
Goal: Josh Rak