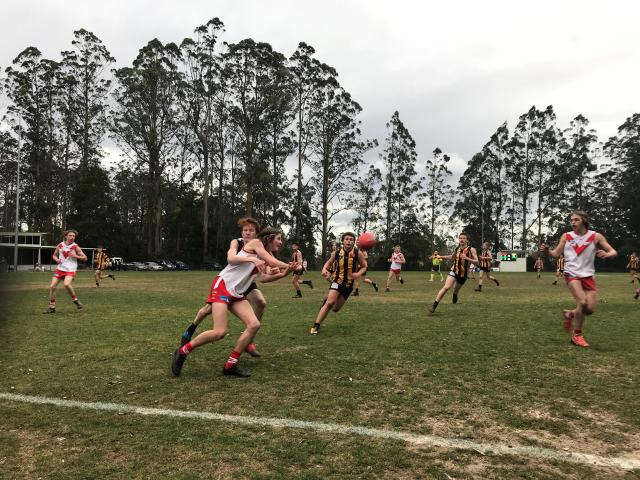 We finished the Home and Away season with a massive Sunday of all teams playing at home with some great results. Olinda weather did it's best work to help us with howling winds and icy temperatures reinforcing how much opposition teams hate coming up the hill.
The U10s finished their season with a solid hitout against Healesville who were looking for redemption from their Lightning Premiership loss.
It was a fast and furious game with both teams scoring early. In the end, with the support of many of the U9s, Coach Ben's chargers were able to tip the balance their way.
Some classy football was shown, led by Syd Higgins and Finlay Paterson but performances across the board were great.
The U11s continued their strong form leading into finals, knocking off a spirited Woori outfit.
Milestone player Ollie Wilford showed his class with the footy around the ground with precision kicking and strong marking.
Jack Ford showed plenty of dash with some screaming runs from the middle and Connor Lourey showed his strength in the contest with some hard ball gets and long roosts into the forward line.
A 28 point victory reflected their effort around the ground and team work with some great link up play.
They finish the home and away season in third and look forward to their first finals match against Monbulk.
The U12 girls numbers have increased consistently over the season and where other teams were topping us up earlier on, this week we topped up Mt Evelyn.
This is some sort of milestone for the girls.
They also continued their development with a really solid showing against an also improved Mt Ev outfit, as they've narrowed the gap every time they've played them.
Coach Jaimee was really proud of the efforts of the girls, noting the work of the new comers Mataya Puglisi, Maya Peters and Mae Barry and how that has encouraged the girls to be more assertive in the contest.
They line up against Healesville in their finals match on Sunday.
The U13 boys had probably their most important win of the season as they hit finals.
Mt Evelyn have been the team to beat all year and the boys convincingly met the challenge yesterday with a 58 point win.
Coach Spida was impressed with the work of Jesse Desta, who snagged two goals, along with Spencer Garrett and Kadin Johnston.
Coach Spida was really happy with Flynn Reeves, Ollie Haine, Rio Neish and Will Blenkiron who was tagged but still got 28 touches.
They will get to play Mt Ev at home again this week and will look to repeat their good work.
The U15 boys let some wayward kicking get the better of them as they went down to a spirited Wandin outfit.
Coach Scott felt the boys were a bit flat for this round despite the support of the home crowd, but was pleased with the work of Zac Seal in his 100th game, Etienne Griersmith-Rowe, Cass Hine and River Bellemo.
They'll regroup during the week to play Healesville at home to start their finals campaign.
Volleyball and seasonal illness meant the U16 girls were severely undermanned against a superior Mt Evelyn outfit, despite them also being short of their full contingent.
Nevertheless Coach Gramercy, was really proud of the girls' effort, led by Captain Courageous Kiah Barry. Aurora Edge and Elsa Leonard also provided hard running and excellent ball use.
The U16s will be the only team to play away this week but they only have to travel to Belgrave for their final.
The Olinda-Ferny Creek Football Club girls are a win a piece over the home and away season.
The U17 boys had a really strong 49 point win against Upwey to finish the day.
Ned Ford had a day out in front of goal with five goals whilst Lachie Smith kicked four.
Coach Paddy was also really happy with the games of Isaac Tonkin and Blair Wilson, each in their 100th games, with the game being a good lead up to finals.
They will host Mt Evelyn this week in their first finals match as they look to continue their good run. Good luck next week guys!
As the Home and Away season closes, the Olinda-Ferny Creek Football Club reflect on what a great season the clubs Juniors have had, starting with the U10 Lightning Premiership and that all of our competitive sides have made finals.
The Olinda-Ferny Creek Football Club look to a massive round of finals at home next week and encourage the local community to come up to Olinda to watch some fine junior footy next Sunday.